Is a disciple of these two:
Between welfare, "entitlements", government deficits, unneeded government programs (and waste), outrageous and insane amounts of foreign aid, the Biden folks have done much to bring the vision to reality…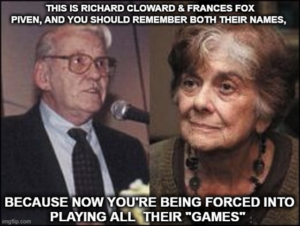 'Cause we are well on the way towards the "Breaking" that they wished for…. to get their Redistribution of resources  and a Guaranteed Income.
Of course they were socialists, so there's that. But the Biden folks are tying very hard to implement their strategy….on your backs.