But their concern is like soccer players falling when looked at hard…..a lot of acting…. nothing else.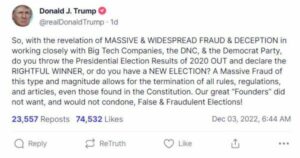 He's not wrong. If there aren't gonna be rules, then it is a street fight. Either there are rules or there aren't.
At no point did I see in this a call to end the Constitution.
What the Left is telling you about this is a lie.
"So, with the revelation of MASSIVE & WIDESPREAD FRAUD & DECEPTION in working closely with Big Tech Companies, the DNC, & the Democrat Party, do you throw the Presidential Election Results of 2020 OUT and declare the RIGHTFUL WINNER, or do you have a NEW ELECTION? A Massive Fraud of this type and magnitude allows for the termination of all rules, regulations, and articles, even those found in the Constitution," he continued. "Our great 'Founder' did not want, and would not condone, False & Fraudulent Elections!"