So Saturday at 8:35 central time, Aaron of the SHEKEL made the call that our blogmeet was a "GO". The weather was good enough for him to fly VFR to the blogmeet and it was good enough for me as well. (I was only worried about icing, really)
So we planned our flights to arrive at KFPK at noon local…Winds were 070 at 8 at departure, and 360 at 5 at KFPK at the time of departure
I left my airport…filed IFR via ADIME then direct. (Keeps me out of South Bend Indiana class C airspace and prevents me overlying KSBN)…I departed at 9:35 local.
South Bend Clearance gave me 3000 ft initially, 5000 ft in 10 minutes.
I climbed up to 3000 feet. Clouds at departure were 1400 broken, overcast 1900. IF I had not had my Instrument rating, I could not have departed as it was definitely NOT VFR….As I checked in with South Bend Approach, they immediately cleared me for 5000. On the way through the clouds though, I picked up a fair amount of rime ice…more than a trace, but not enough to worry about. Broke out of the clouds at 4700 feet and flew towards my first waypoint at 135 kias..the winds were near calm, so my ground speed was more or less my airspeed. Then ATC asked if I wanted to go KFPK direct, which was great, saving me 10 minutes or so, so I accepted the amended clearance and flew direct. In and out of the clouds until more or less the Michigan state line, then clear above the mostly broken, then scattered, clouds at about 3800 feet. (The ice melted off slowly). Total flight time, including startup, warmup and taxi, was 1.6 hours. The view en-route was AWESOME.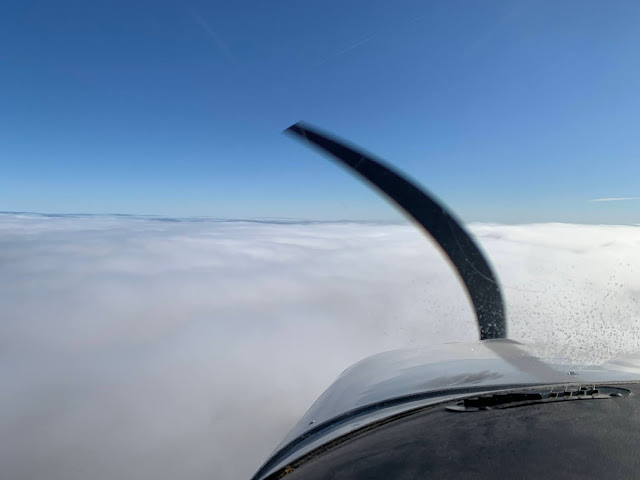 notice the residual ice on the windshield??
At arrival, it was 220 at 9 about 35 miles out. So set up for the rwy 21 approach…when I crossed the numbers it was 010 at 6 so a kinda downwind landing, but not a big deal. I chose not to circle for the opposing runway and accepted the slightly higher landing speed…cause I am just stubborn and the winds were light enough that it wasn't a big deal. I arrived just after Aaron and his friend Tosh while they were still parking their plane. Pulled up, turned and shut down, backed mine in right next to theirs, chocked the wheels, and we unloaded.
Met everyone: Aaron I knew, shook hands with his friend Tosh, and met ERJ …and Scott of Providentia and his dad for the first time. We walked into the small airport office and used the facilities and planned our day. We had considered shooting a bit, but the available ranges were busy with either hunters sighting in for the deer season or Hunter Ed classes, so we chose to just have lunch. I did have to bring my rifle along with me (the Non-Ruger 10-22 in it's case) for security as the plane is almost as secure as a high school locker, but it just stayed in the car as we had lunch.
Lunch was great, a small place called the Eaton Place. good soup, good sandwiches and the Tosh and I had their house made pie….pie was awesome. Did I mention the pie? I mean the pie was AWESOME.…I didn't need dinner that evening and likely won't need lunch today, either. I think I ate 10,000 calories, half of which was pie.
Conversation was great, lots of talk about lots of things. I miss blogmeets like this, as these folks are of my Tribe.
All too soon, it was time to leave and return to the airport. Bummer.
Preflighted and started up. Aaron taxiied first, I followed. A short runup and off we went. The wind kept changing, so Aaron had to change runways from a 21 departure to a 03 departure….Since I was at that end of the runway I took off while he was taxiing back to the 03 end from the 21 end. As I turned downwind I heard him call his departure and watched him climb out in the other direction.
Great Lakes Approach gave me 3000 initially, 4000 (as I had filed) in 10 minutes. Cleared to 4000 feet, it was pretty bumpy so I asked for higher. They gave me 6000, which put me solidly in IFR in the clouds, which sucked as it was just at freezing and, while there was no ice formation, there was a lot of moisture on the plane…so I asked for higher again. Oddly, ATC gave me 7000 (westerly headings get even thousands normally), but I took it, as it got me out of the clouds. Later they amended that to the proper altitude, an even one (gave me the choice of 8 or 10)…I chose 8 which kept me out of the clouds.
Passed over Kalamazoo at 132 knots (148 TAS, 121 ground speed), then began my descent to my airport just past South Bend…. 5000 feet, then cleared to 3000 feet. 19 minutes later I reported "Airport in sight" and cancelled my IFR flight plan. landed visually, and taxiied to the hangar. Fueled up and put the plane away.
Over all, the time going back, with taxi and startup and such, was 1.7.
This is a 3-1/2+ hour drive, or an hour and a half flight. This is why I bought the plane.
A great day, really, met some Internet friends in Meatspace, and that is a Good Thing.
These folks, great people all, are my People.
I look forward to doing it again soon.