But the company and the experience was worth it. So not that expensive after all….
So Sunday started out with thunderstorm rapidly moving through at about 7 AM.
But by 10 the skies were clear.
So, MC and I invited my parents to do the brunch at a Rochester Indiana restaurant called The Dam Landing. They do a really nice brunch on Sundays.
So we loaded up the parents and drove to the airport, opened the hangar and preflighted the 182.
Off we went. A short flight, a climb to 5500 feet to get above the clouds and turbulence, then a fast descent to the Fulton County airport. Other than a bit if concern with another plane and I trying to find each other visually so we did not occupy the same space at the same time (cooperation and communication in an untowered airport is a great thing!) the trip was fast and without incident.
We landed, taxiied, and then walked about a half mile to the smell of food.
The weather was warm, but not bad. About 75 degrees F and a nice breeze, so the walk wasn't bad.
Sadly, they no longer do the Brunch (I wish they'd take it off of their website then), but the lunch food was very good.
Ribs, pulled pork, tenderloins the size of some counties in the east coast, and lots of fried potatoes. Waffle fries and tater tots….All garnished with cheese, bacon onions and other flavorful goodness…..
A walk back towards the airport with a stop at Sallies by the Shore…and ice cream place that makes their own ice cream offsite and sells it out a 1950's era travel trailer. Damned good ice cream.
I was too hungry to stop and take pictures of the food or the ice cream, but I did take a photo of the ice cream trailer: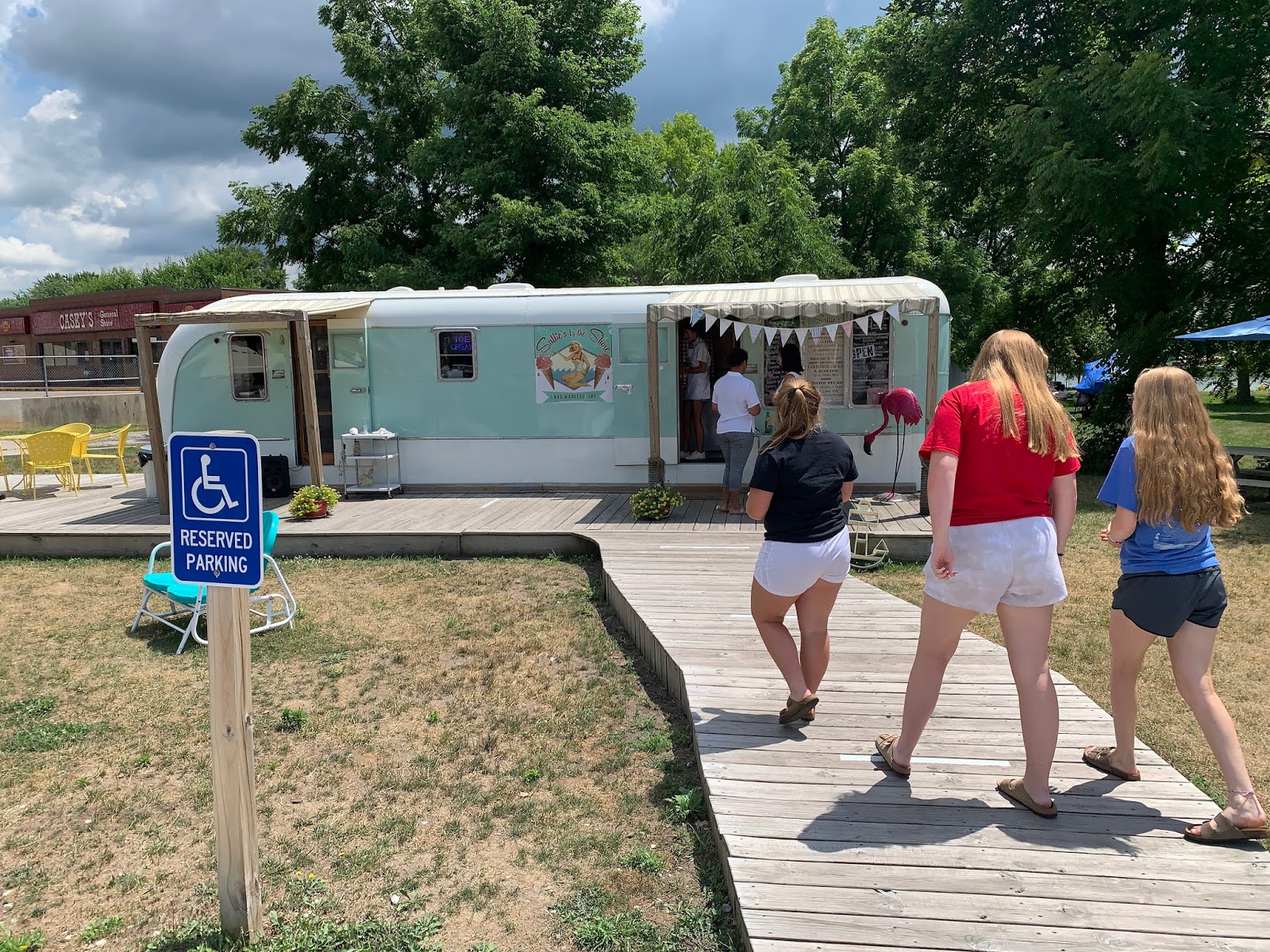 Then we started the plane, a quick bit of power to get it rolling out of the grass, taxiied to runway 29, a runup and off we went.
We turned north and went towards South Bend, got Flight Following through their class C airspace and then turned west along the lake for some sightseeing. then a short trip back to the home airport.
2.4 hours of flight, 4 and-a-bit hours with my parents and MC (people that I value highly), and lots of good times had by all. Plus food. This is why I learned to fly…(of course the WuFlu and our government's (over)reaction to it has put a crimp in those plans…)
Overall a beautiful day.