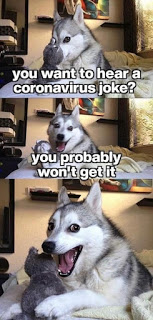 On any given day, I have about 800-1200 readers.
I'm gonna assume that each readers has 100 close contacts…close co-workers, friends, family, neighbors, etc. Someone you had contact with via phone or face to face, in the past month…(just to set a limit).
Do any of the people you know have the Covid-19? Any of those people?
Then lets take a step even farther. Do any of THOSE people have, in that same defined circle of connections, have anyone that has the virus. (please, if possible, make sure that they are real, not rumor).
I'm not talking "In the county" or "at the plant where you (or they) work". Not "someone in the warehouse of the store that my sisters cousins't neighbors brother works for but has never met".
Real incidences, with two points of separation. Either someone YOU know closely, or someone THEY know closely.
I'd really like to know.
Please let us know in comments.
(I shouldn't have to say this, but please respect privacy concerns).
Thanks
ETA: Please also tell me if they have a positive test and/or are symptomatic please.