Pretty, ain't it?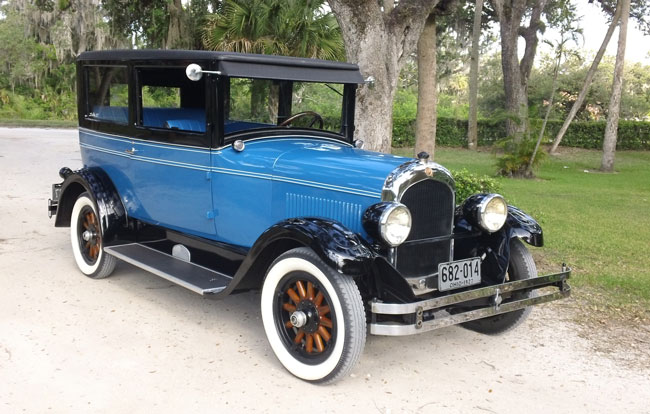 Yeah, that's not the one I am working on. Mine needs some work to look like that.
I was asked for an update with pictures, so this is gonna be pic heavy.
This is the one I am trying to resurrect: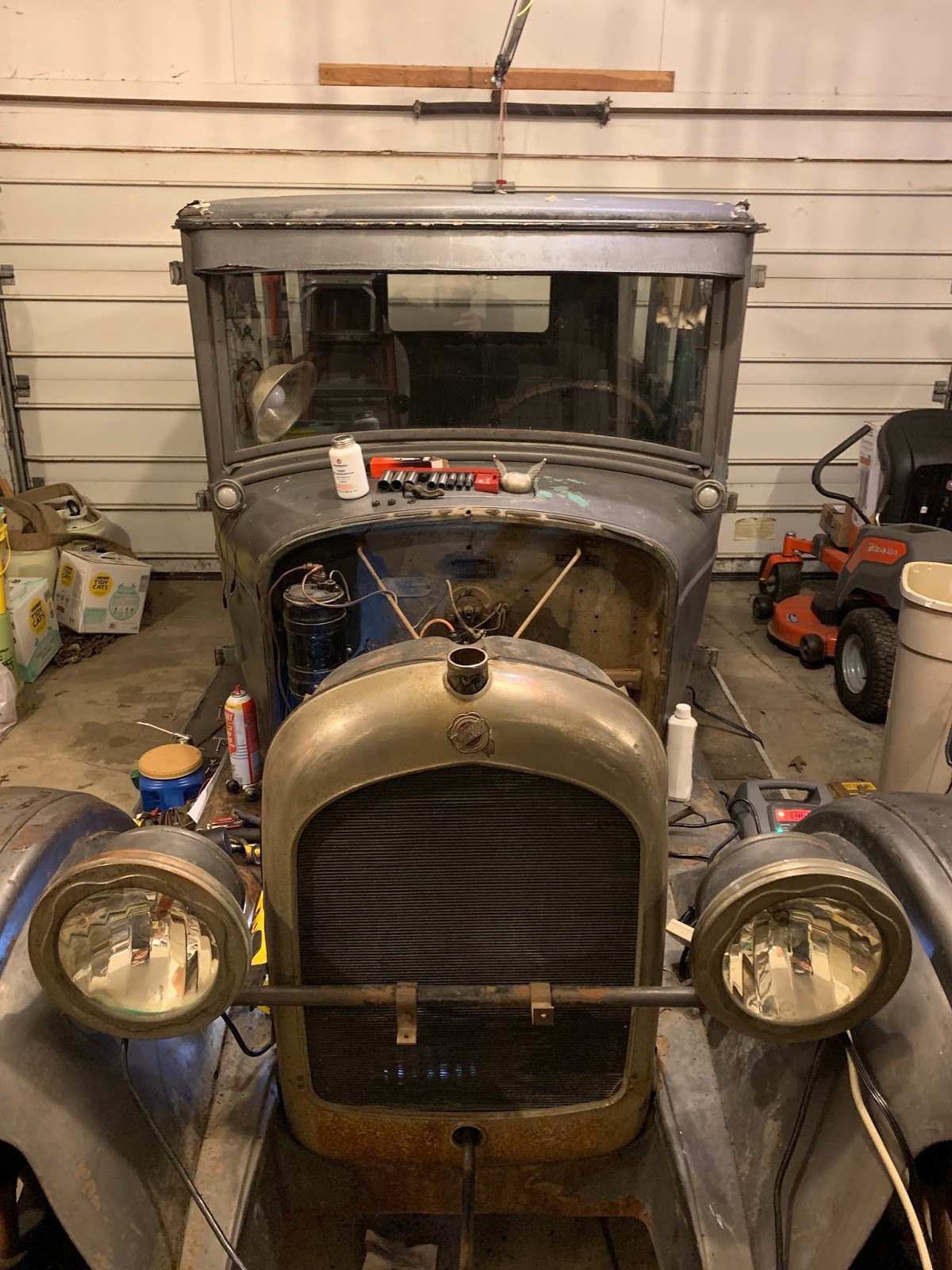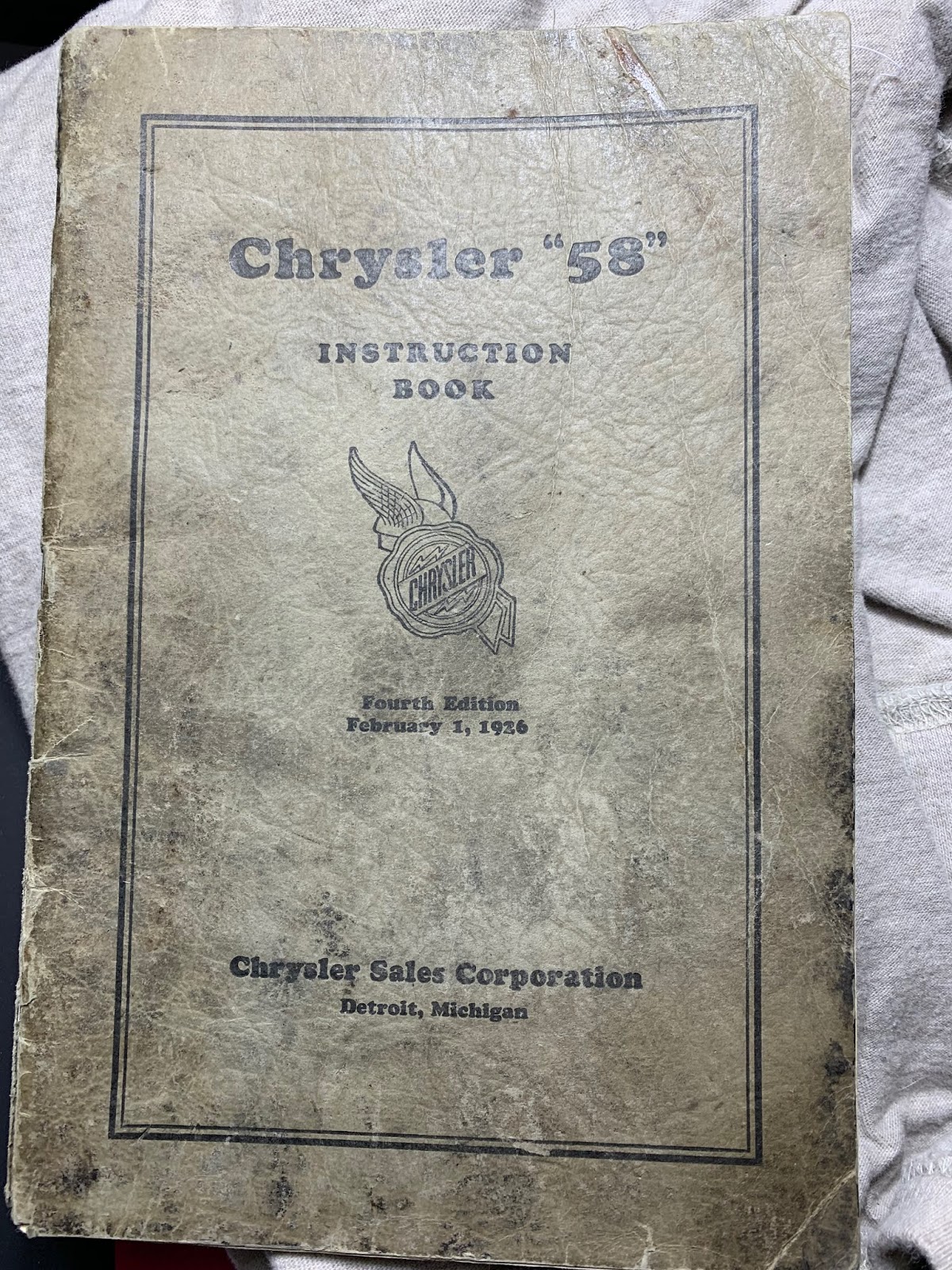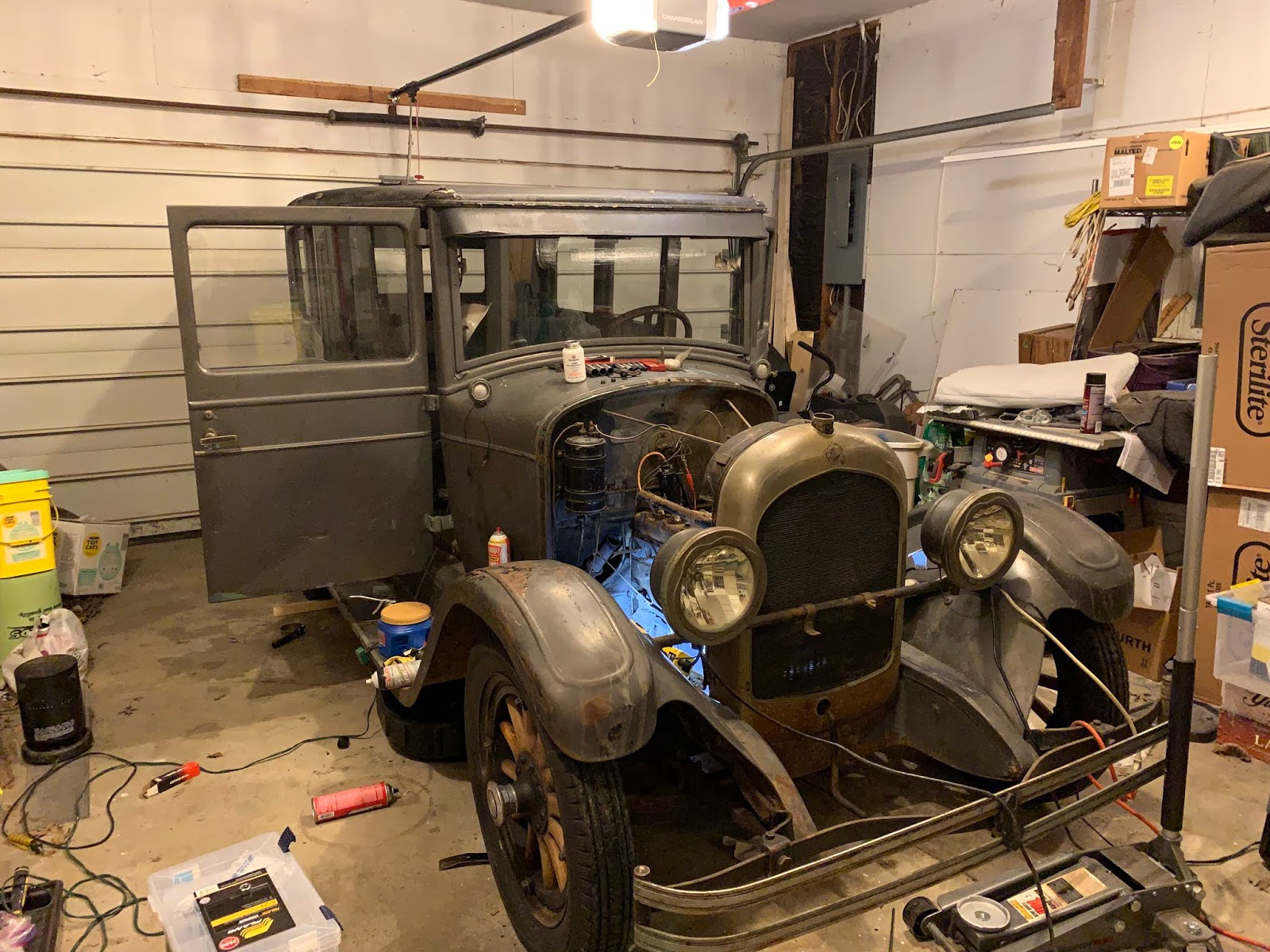 Yes, my garage is…..cluttered.
Good, solid body. Paint is rough though. Doors close firmly and latch. Trunk as well. Wooden wheels are tight and not rotted, but need some TLC. Tires hold air. Drivetrain is loose, it rolls easily. Running boards are solid, as is the frame.
Engine runs and is tight. Carb is now clean and operable. Carb is NOT correct, but apparently many of these cars were retrofitted from the Carter to the bronze Stromberg that is on the car, apparently due to corrosion in the zinc body of the original Carter carb.
New plug wires (of course)…filed the points flat and installed a new fan belt…can't find the right condenser (or the exact points), but the one that is on the distributor is good. . Surprisingly, Gates had a listing for the belt and I got the belt one day after ordering it.
Note: Automotive engineers back then were just as bad as today's engineers…some things are just a pain to work on or are unnecessarily complicated when they don't have to be. If there was a Haynes manual for this car every procedure forward of the firewall would start with "remove radiator and support rods".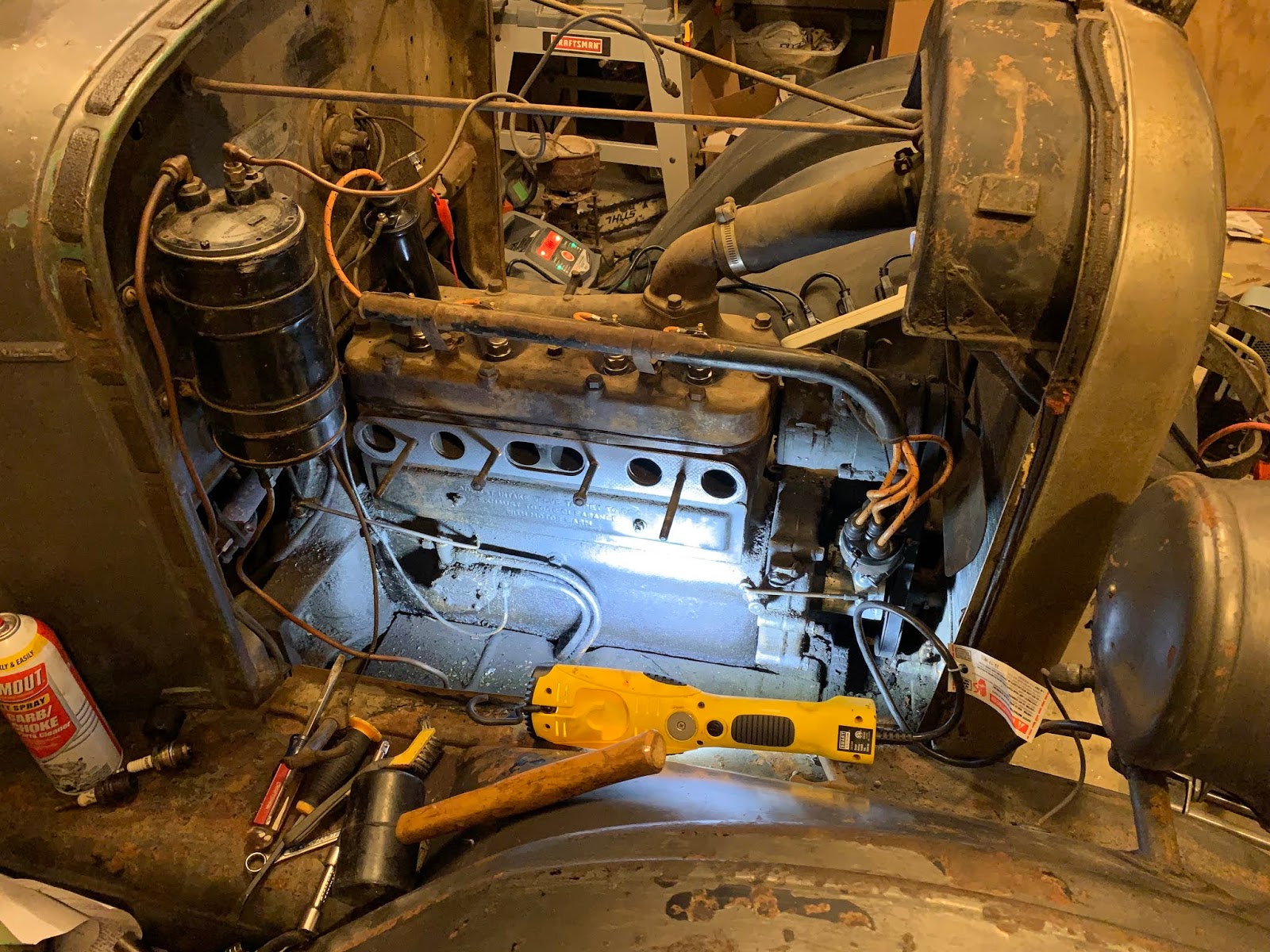 New manifold gasket and the manifold bolts that snapped are drilled out and new threads tapped. No exhaust leaks now.
Carb is cleaned and put back together. It works well now that the varnish is gone.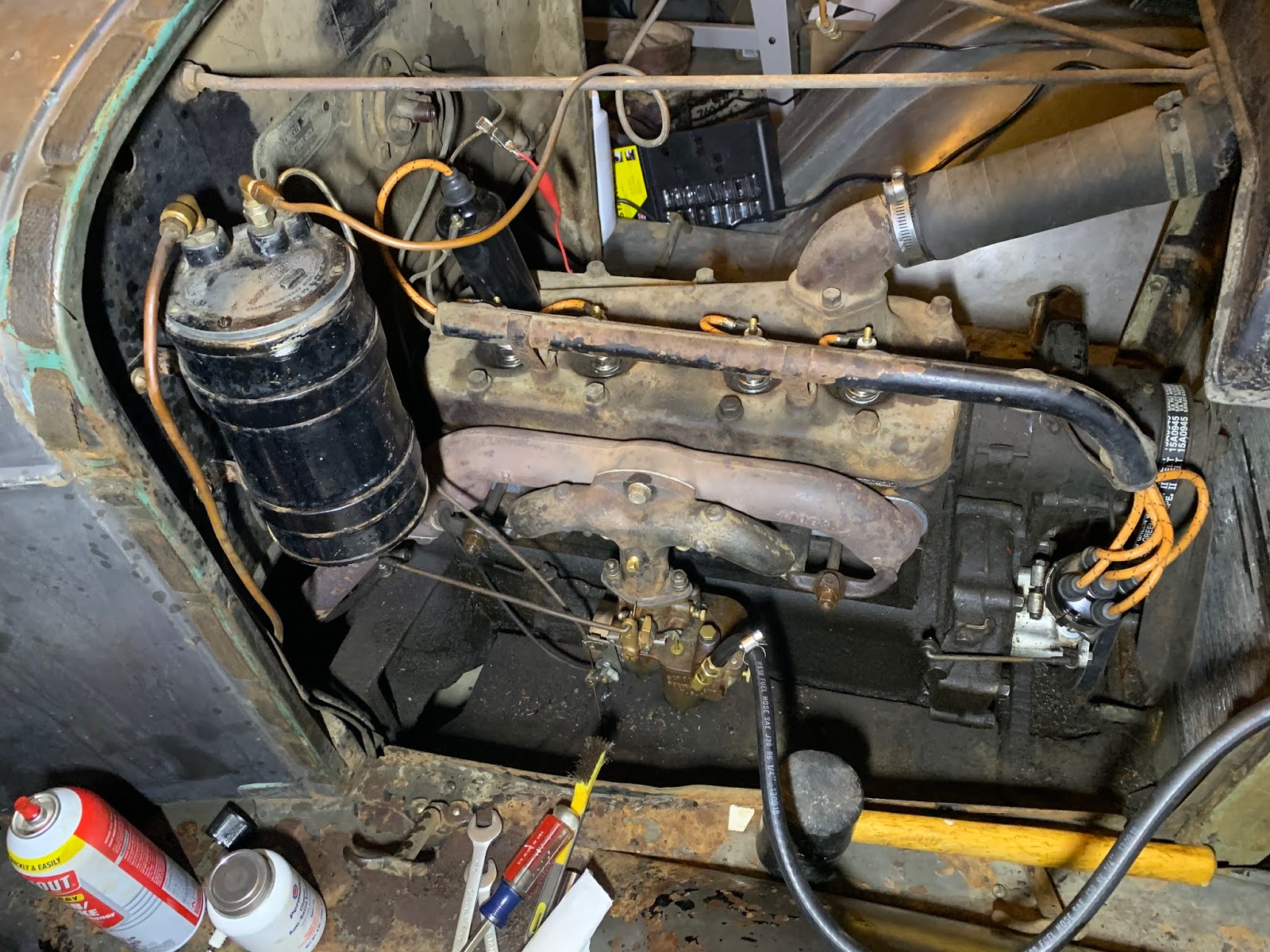 I found all the parts to the vacuum tank fuel pump in the trunk, but can't make it work. (that is the round thing on the firewall at the upper right in the picture above).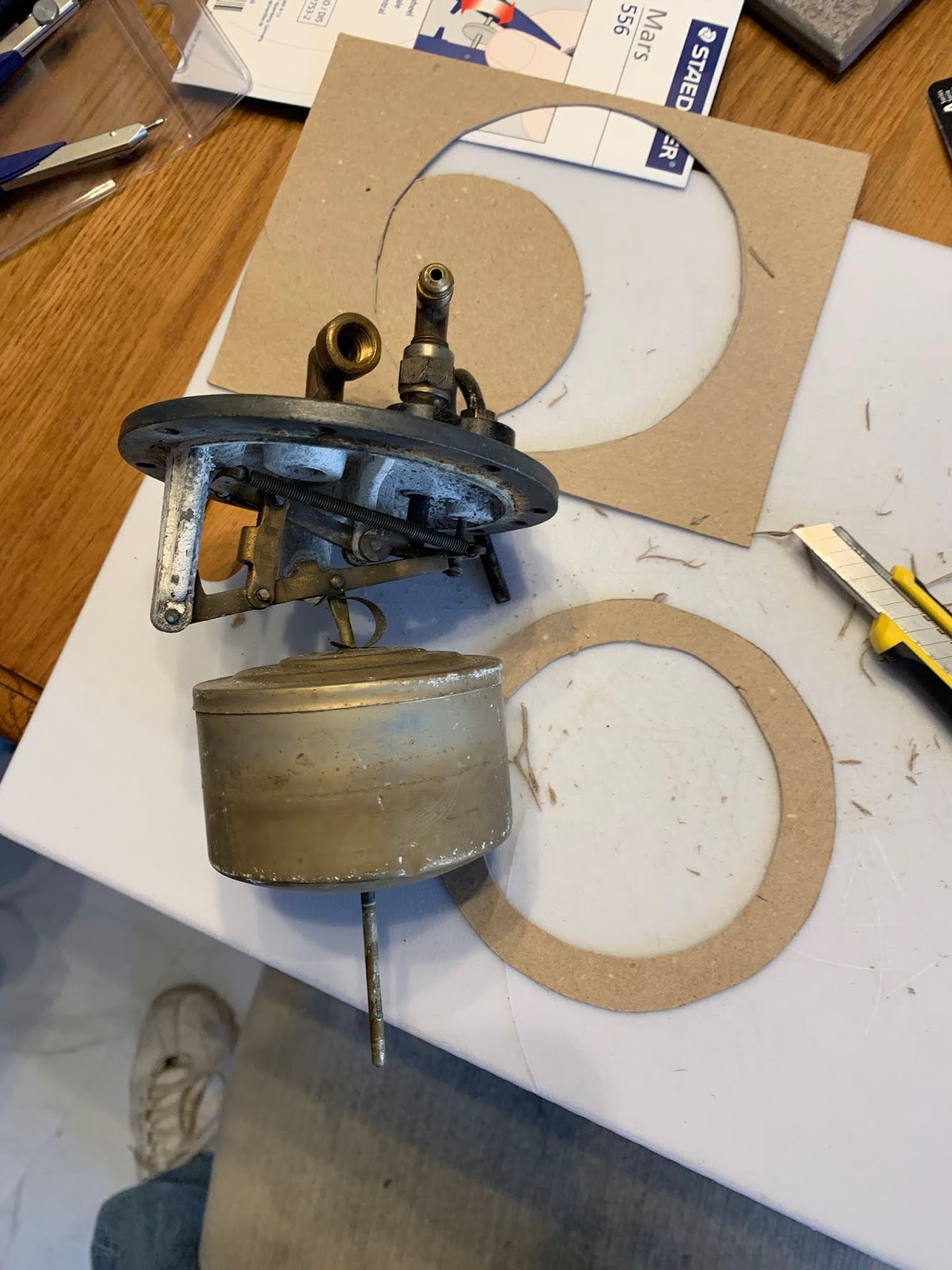 I did make a new gasket for the top, but there are too many worn/dried out parts in it, so I am gonna send it in to a
rebuilder
.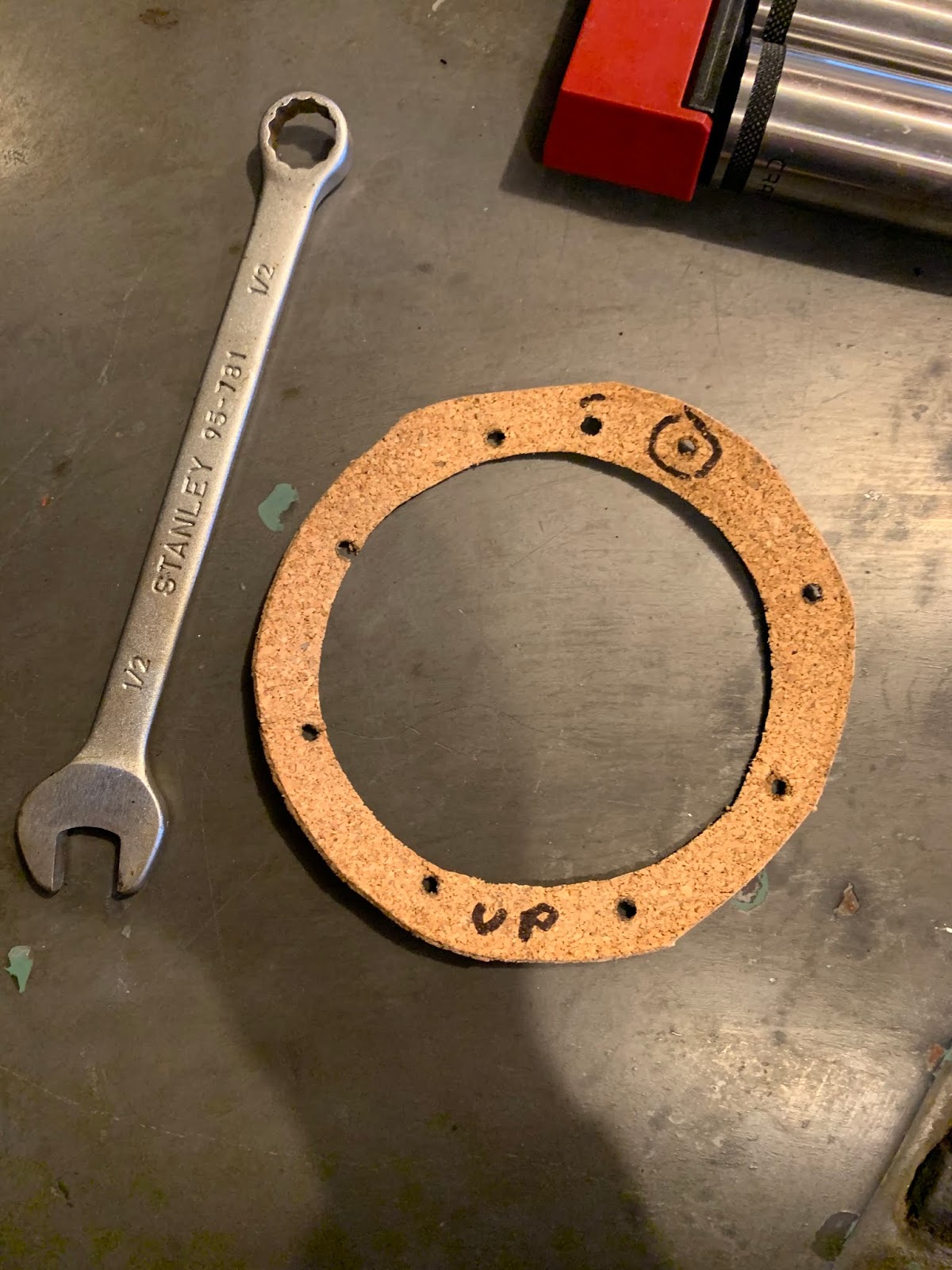 Yes, it looks weird, but that is what the gasket that was on it looked like. Offset and one hole at the edge of the gasket.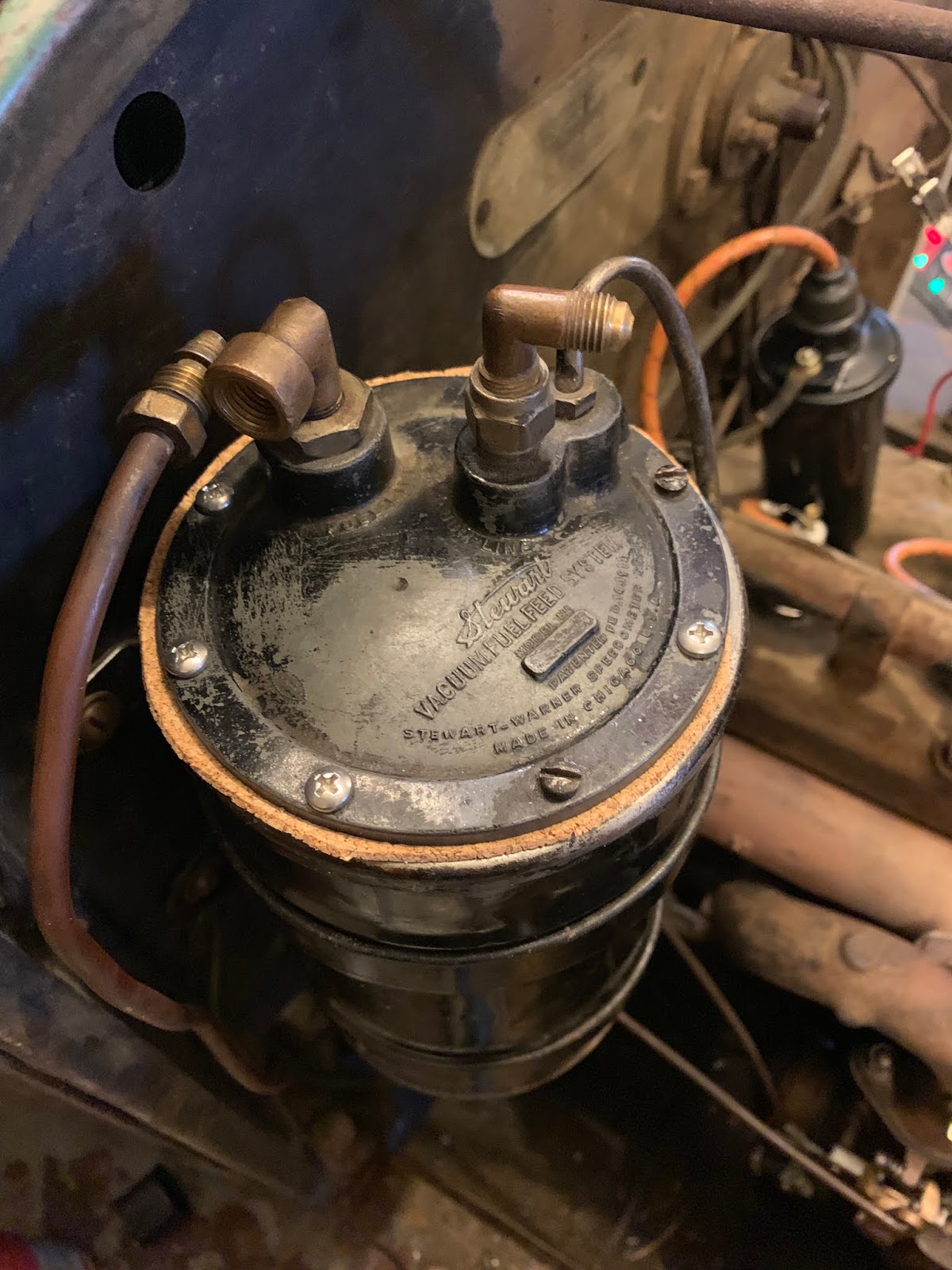 (for an explanation of how this canister works as a fuel pump, go
HERE
… It is a kinda Rube Goldberg-ish, but apparently they work well when complete and in spec (which this one is not!)). I have a low pressure electric ordered in the meantime. 2 psi MIGHT be too much for this carb, have to see.
So, it starts and runs when the starter motor decides to work. I pulled the starter and switch out and took it to a rebuilder. Should have it back on Saturday. Hand cranking is dangerous!
When running, it has decent oil pressure and doesn't smoke. I changed the oil and cleaned the pickup screen. Have to see how long that oil stays clean…it is already getting dark after about an hour of runtime. Lots of Gunk in the crankcase. Haven't gotten to check the generator, but those are easy to work on, as is the voltage regulator, so not a worry there.
I'm still not happy with the distributor. That's the next project. Lots of play in it and it has skipped time once again. Something isn't put together correctly. I'm trying to find an exploded view before I pull it apart. I can time it and the engine will start and run…then suddenly after 3 or 4 or 10 or 15 minutes it will backfire and die and the timing will be off by about 20 degrees. Someone else was in the distributor and it's associated drive before I bought the car, so I don't know what they did or if it is put back together properly. The drive gears are sharp and not worn, on both the distributor and the cam. I painted the distributor gear with a Sharpie, and the engagement is good. I dunno. More research before taking it apart though. It's been about 20 years since I rebuilt a distributor. And it isn't like I can order another one from AutoZone if I screw it up.
I got about 5 gallons of evil smelling varnish old gas out of the tank, and flushed it with new(ish) gas (Thanks to my brother for his help there). Left some good gas in the tank to soak the bottom. Lot of icky stuff in there. Probably gonna have to coat the inside of the tank after I get all the varnish out.
After that will be trying to get the clutch to move on the splines. I think it is just rust in the splines. Having said that, I will have to see if there is a cover or inspection plate to let me look, or, if need be, I can easily drop the driveshaft and pull the trans.
The brakes, including the parking brake, now work. The radiator holds water and so does the block, so I got that going for me.
One step forward, three steps back. Everytime I fix one thing, I find more yet to fix, or an issue that was masked by the thing I fixed. And the distributor is just plain pissing me off.
Lots of work, but it keeps me out of the bars.