So the pushbar and adapter and such for Ed's 182 is finished, and it fits and works really well.
The adapter bolted right up to the tractor. Fit the first time.
The hitch adapter for the pushbar is the right height. And he can pull one pin and take it off when he mows the grass.
The pushbar itself handles the grades up the ramp and into the hangar and is the proper length.
The paint looks decent enough having come from a rattle can of Rustoleum .
I did have to anneal the spring bar at the point of the new weld so it wouldn't crack like it did (which was why we used it in this application) before. (you can see the new blue pushbar in the background)
It handles the change in elevation from the hangar to the ramp as planned.
Not too shabby for a napkin sketch and a bunch of scrap. The only parts not made from scrap are the pin for the pivot, the lynch pin to hold the pivot assembly together and the reused (broken) pushbar assembly. Oh, and the four 3/8″ x 1″ carriage bolts and the nuts and washers.
All the rest was from my scrap bin.
Took about an hour to figure out what, exactly, I was making and sketch that, about an hour to search out the bits and pieces, an hour to cut, fit, and tack together, and another hour to actually weld it, smooth it and round corners with a hand grinder, and another hour of actual time to prime and paint (took all day for the painting, but I was doing other chores so I could come back after the primer and each coat and paint it again). Since he won't let me pay even for the gas for the two hours (at 12 gallons an hour) I have spent flying it, I figure I am still WAY ahead of the game…..But Ed is happy with his new pushbar. He seems to feel it is a fair trade.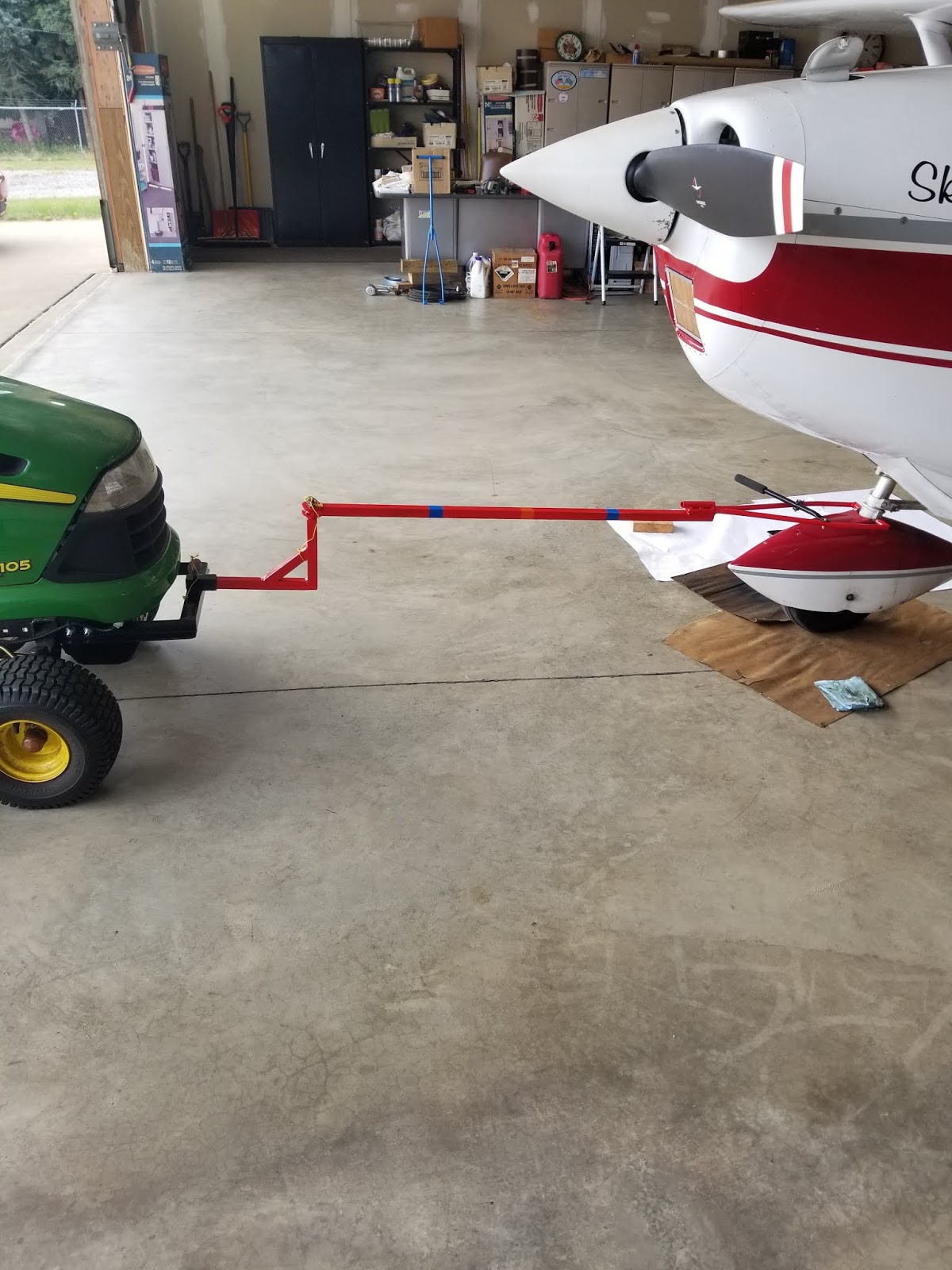 (click to embiggenize)
Hopefully, he won't fall this winter trying to push his plane back into the hangar by himself. Bad idea for an 80 year old man to fall at night at an airport, much less in the wintertime temps. He could be out there 'til morning.