So remember the fun I had with Gander Mountain and the Sig Sauer 1911…?
Wrong caliber….Easy mistake….
Then the "yes we will take your order" but then "no we won't" and "yes we have it in stock", but then "no, we don't"…."Yes, backorders are OK", but then, "no, sorry, that firearms isn't available, sorry". "We cancelled your order, but took our time about refunding your credit card"….
Well, I gave up.
Called the FFL that works through our range….we get his cost plus 10% profit for the range. Kinda nice.
All told, he got me the fixed night sight version of the pistol I wanted (adjustable target sights) for only $68 more than what I would have paid through Gander Mountain.
Got it Thursday.
Had time on Wed to go to the range and actually put it through it's paces.
Me likey.
Standard 1911 frame, only with 25 per inch checkering on the front strap. not too sharp, but makes for a nice grip. 20 per inch checkering on the mainspring makes it easy to keep your grip even in rapid fire. Trigger is a nice 4.2 lbs.
I had wanted target adjustable sights, but apparently Sig, while showing them in their catalog, is really hiding them in a secret detention center outside of Indianapolis not shipping them to any of the distributors that any of the FFL's that I work with can buy from…so I bought this one.
Fixed night sights are OK. Good size notch, the dots are decently sized and spaced. I can live with them. (yes, I am whining). Actually, I like em a lot. Tritium night sights are, of course, nice in the dark.
The gun shoots dead on, right outside of the box. I might go with a slightly slimmer set of grips, but these are well checkered and nicely curved and fit the hand OK. And double diamond 1911 grips are cheap and easy to find in any thickness…The "speed bump" grip safety may get a bit of filing to round the edge just a bit, especially on the left side, but then again, as I shoot it more, this may not be an issue as I might get used to it. Dunno, have to see.
It ate factory WWB 230g ball no problem, and also some reloads (4.9 grains 231 230 g ball). Overall, 30 rounds of WWB and 50 of my reloads had zero hiccups. Ejection is very consistent. I could have placed a 5 gallon bucket in the right place and had 90% of the brass hit the mouth of the bucket. This is an external extractor, not a real JMB 1911 type (more like what you'd get on a new style Hi Power).
The 8 round mags from Sig drop free, as do my other 7 and 8 round 1911 mags. The magwell is small, but slightly beveled and reloads aren't much trouble. (The rapid fire target from 50 feet (below), I did 2 5 shot strings in just under 4 1/2 seconds including the reload ). Could (should) have been faster, I bobbled the reload… but then again I am used to a bigger magwell….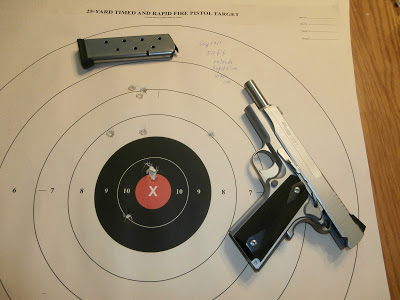 (Yes, this group is larger than it should be….. but for rapid fire, I will take it, even with the vertical issues)
All told, I like this pistol. I will have to work with it a bit more to like it more than my Para, but we have been old friends for a while, and this newcomer is gonna take some getting used to…..
Slow fire, now I gotta say, that was fun. Group size was just over 3″ at 50 feet, and the pistol came back on target nicely each time. Can't say that I am unhappy with this target.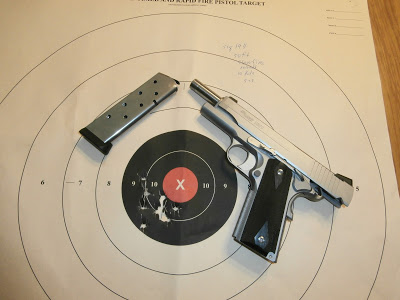 Yeah, I'll take that….
There may be better ways to spend a hot summer afternoon, but getting to know your new pistol is high on my list….