So after I purchased my belts (and I was impressed with his work) from EvylRobot at the Holstersite.com, I had emailed him regarding his custom holsters, and asked him how hard it would be to make a drop leg holster shaped for a 1911? After a LOT of sketches and emails and such, we agreed on a price (I stole this from him!) and a time frame, and the work began.
A few weeks later (and, BTW, at the time specified) I got an email from E.R. that my holster was on its way!
I got the package, and it was exactly as we had discussed (and the holster was nice too)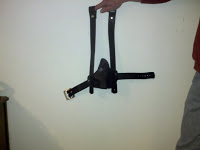 This holster was designed for a 3″ 1911, but the bottom was left open (by design), and it accommodates my full-size pistol as well: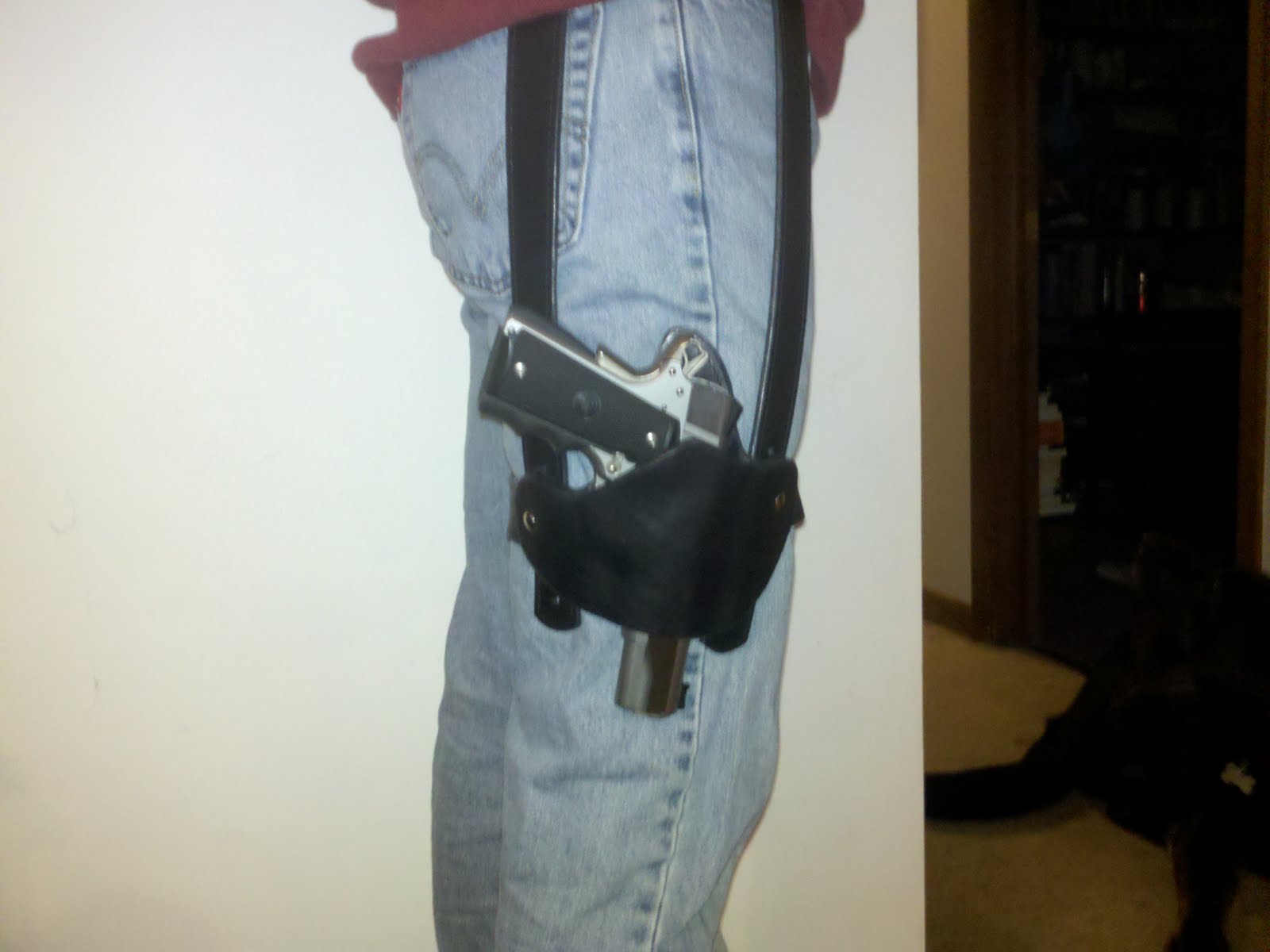 It carries nicely. All of the weight is carried on the belt, and the leg strap secures the holster from swinging too much. It carries my smaller 1911 even better! I can RUN with this holster with no problems!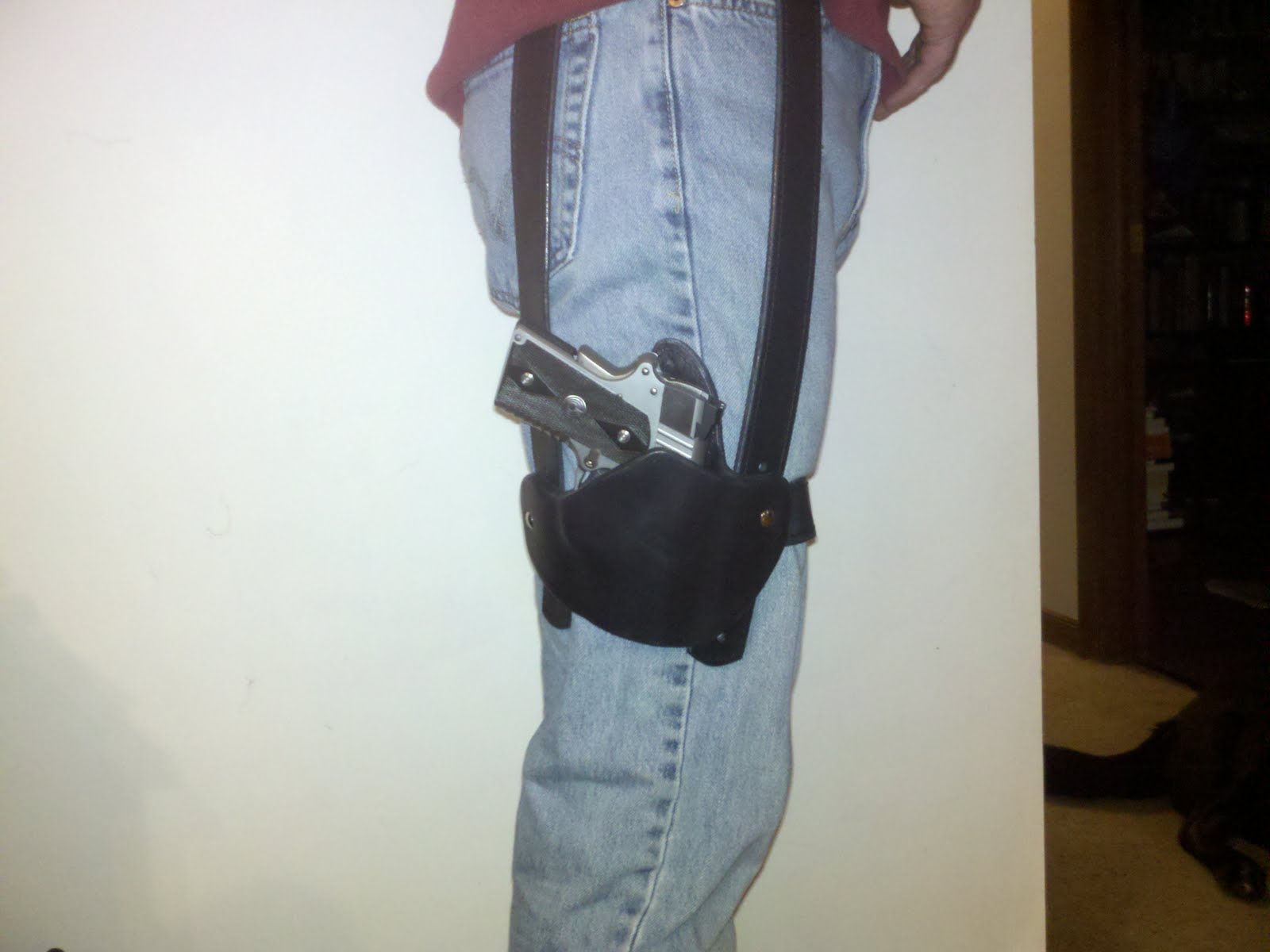 The holster is molded perfectly for a 1911. Not too tight around the trigger guard (nothing should enter the trigger guard except you trigger finger as you prepare to fire) and a well shaped sight channel. The leatherwork is outstanding, the stitching even and neat. The back of the holster is stiffened, and is designed to protect the leg from the beavertail and hammer.The holster protects the trigger, yet is cut such that gripping the firearm is easy, and draw is smooth and instinctive. Reholstering is easy as well, as the mouth of the holster is reinforced so that it stays open.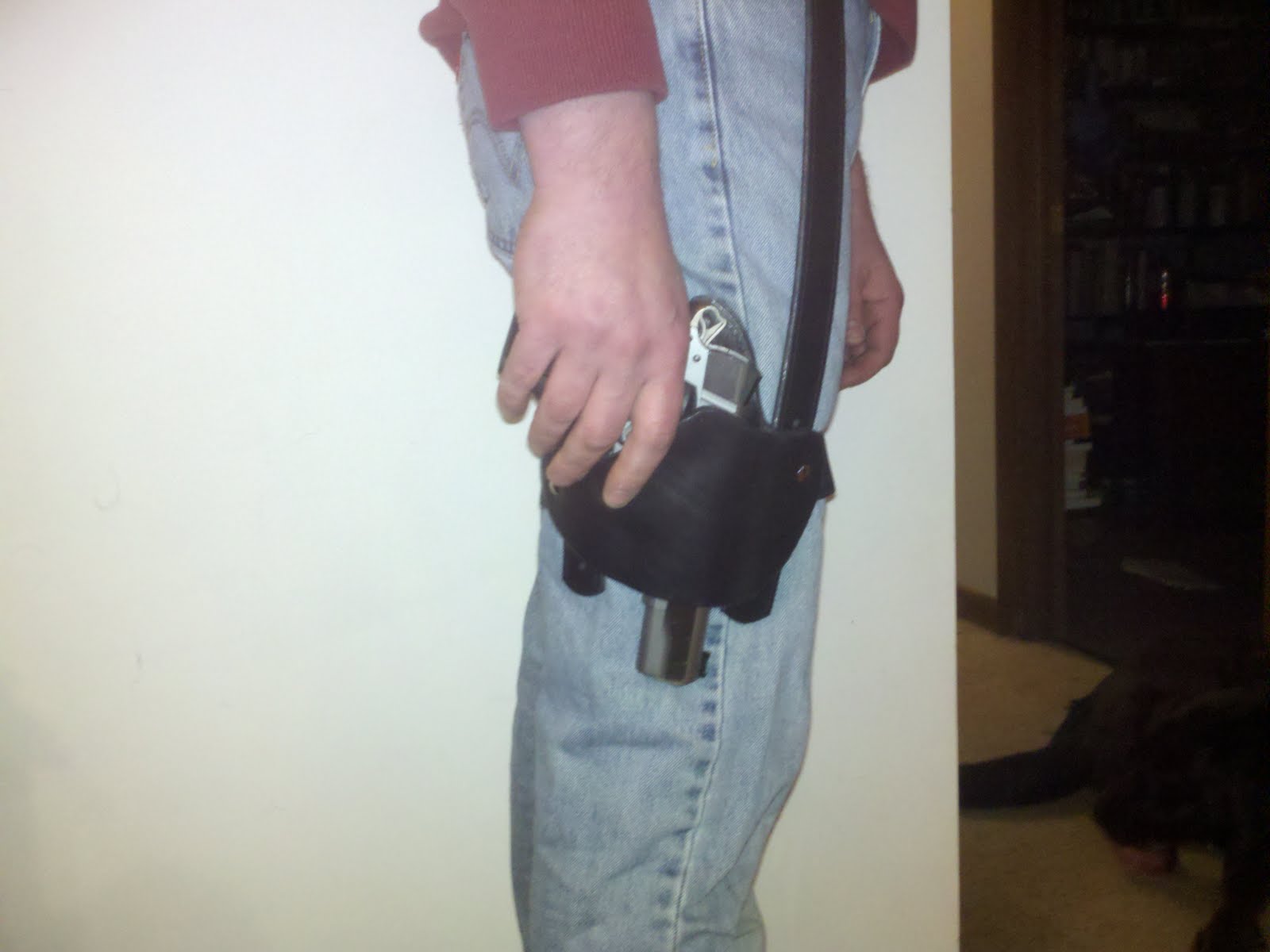 The holster is adjustable for height on the support straps using Chicago screws. The buckle is large, square, and easy to manipulate with one hand.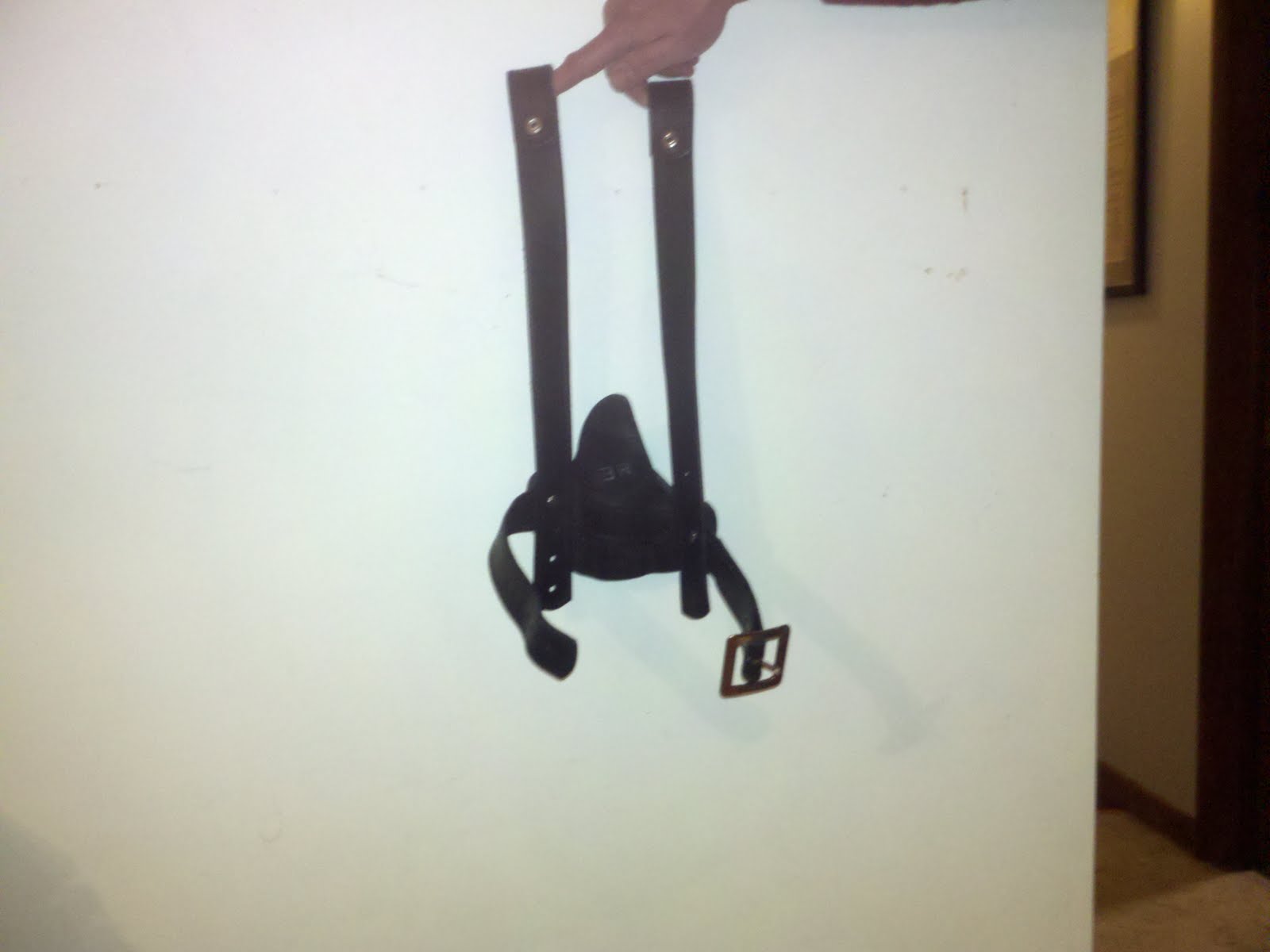 How does it work? It fits well, and the holster sits perfectly to the point where my hand falls at my side.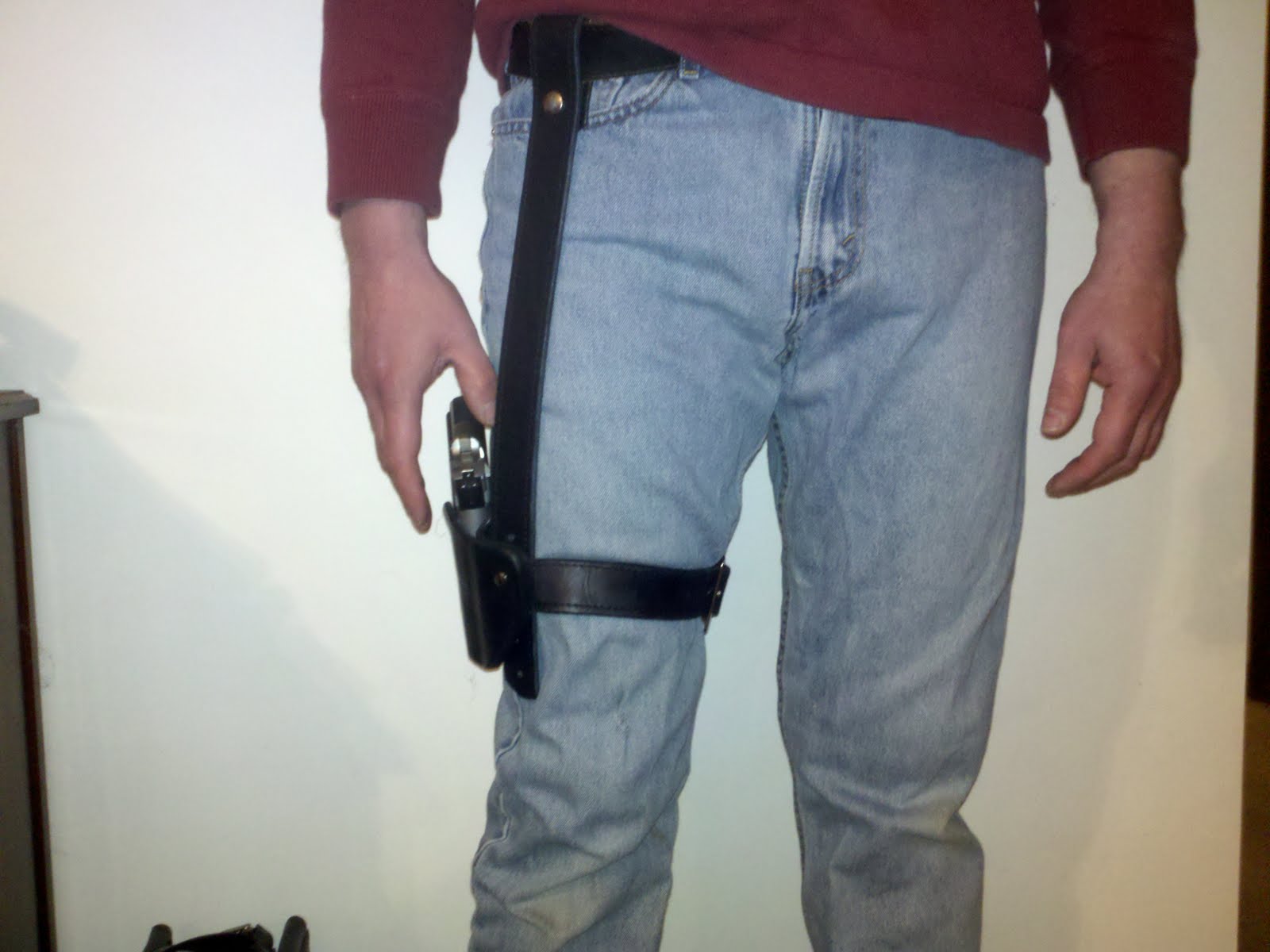 (click to embigginate all photos)
I think that this is really going to really help my times in PPC
If you have the need for a custom holster, toss an email to Michael at the TheHolsterSite.com I think you'll find that you'll get exactly what you ask for.
Admit it, yer jealous.