As I posted earlier, my neighbors tree fell onto my barn due to storm winds Friday night….I did not think it was THAT big of a deal on Friday, as everything seemed stable……Saturday morning however, I found that the tree had settled into the barn by 8-10 inches and was settling more. The roof trusses in the barn were leaning and twisting and the walls had begun to bow as the tree settled even harder into the structure of the barn.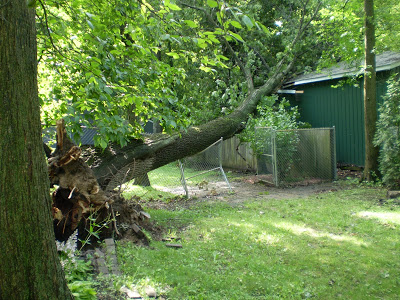 As this job seemed to be beyond my comfort/skill level, I called the insurance agency to see what they wanted to do….Let us just way that I was obviously not talking to the "A" team at the call center……They were very unhelpful….I suggested that they might want to get someone to perhaps decide to remove some tree weight from the roof before the barn fell…..They had zero motivation to help, and basically left the choice of contractors to me, as well as the decision to remove the tree from the roof or not." BUT," they said, "YOU MUST DO ALL YOU CAN TO MITIGATE ANY DAMAGE."
Kudos to "A Clean Cut Tree Removal" out of Wanatah, IN for their quick response and excellent work. They were fucking artists at trimming and cutting in just the right spots to remove the tree WITHOUT HITTING THE BARN WALLS. or adding to the damage.While there is still LOT of work to do, the weight is off the barn, and the roof is tarped.
And, I must say, FBI builds a strong building. The roof, while damaged, did support about 5 tons of tree, and somehow I doubt that that is a part of the design specs.
We will see how the insurance company handles things on Monday…