Moved the plane to Fort Wayne the other day. (just a short turnaround flight).
Upon landing, was told to turn off the runway and "Follow the A-10's".
Which I did.
(Air National Guard based at Fort Wayne, 122nd Fighter Wing, "Blacksnakes").
It was fun watching them take off. I need that kind of power (and maneuverability) in my plane.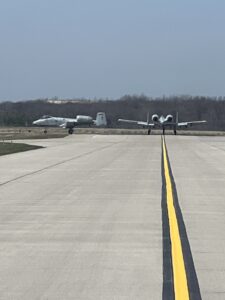 I tried video, but it sucked as I was too busy taxiing the airplane, so still photos is all I got.