So Saturday, I had been watching the progress of Tropical storm/Hurricane/Tropical depression "Barry"….
After we finished our business in Texas on Saturday, we had time to fly home……or at least part of the distance…
So I called 1-800-WxBrief for a briefing…..explained that I wanted to go back to NW Indiana, and had planned for Sunday, but could leave Saturday night if that was a better idea for VFR flight…..as the weather at Tyler was clear to at least 10,000 ft and not windy. Perfect VFR flying weather.
The Meteorologist briefer told me that the storm would track east and north….that my proposed route of flight (Tyler/Ft Smith/Joplin/Springfield Mo/Springfield Il/Home) would be clear, possibly a bit of headwind….maybe a small deviation west and north to clear the expected 3500 ft ceilings and a bit of turbulence out of Tyler….
So we stayed the night, planning to leave in the morning after a good nights rest……
Yeah, not so much.
Morning came, and the ceiling was lower than forecast…..lots lower. Like 1500 ft AGL.
I called again, and was assured it would clear shortly…expected to be 3500 ft in 90 minutes. Clearing to the north and west.
So we went to the airport, pulled the plane out of the hangar, preflighted, paid the bill, loaded the luggage, and waited.
and waited.
Finally, some clearing. the ceiling was 2200 (just above minimums,) and the tower told me it was clearing to the north and west (notice a pattern here?) and cleared me for taxi. We taxiied to the assigned runway and took off.
So much for forecasts.
About 20 minutes into the flight, the ceiling dropped….to about 1500 ft AGL. I tuned in the ATIS at Tyler, and it was…600 ft…..Can't turn around (shit)…. Turbulent too, so we were flying at 90 knots to not beat up the airplane…It was clearer at Majors, but only marginally. Hmmm… Set a course for East Texas Regional (staying out of the Dallas class Bravo airspace), and looked at obstructions in my path (Don't wanna hit any towers or anything) in ForeFlight…. Clear below 1000 ft AGL, so we kept going….staying just VFR. Vis was 4+ miles, so we were barely legal, I'd have landed at East Texas Regional if it hadn't cleared up by the time we got closer…2500 ft and 8 miles visibility. The AWOS for Durant OK (to the north of us) said 3500 ceiling, so we turned that way…..turned right (east) at Durant and flew to Joplin. Found a hole in the clouds just after Durant and climbed to find the tops at 6300. Flew at 7500 for most of an hour at 127 knots indicated…146 true. And we had a tailwind of (at one point) 45 knots…so we made some real time to Joplin. Stopped there for fuel and a bit of walkaround.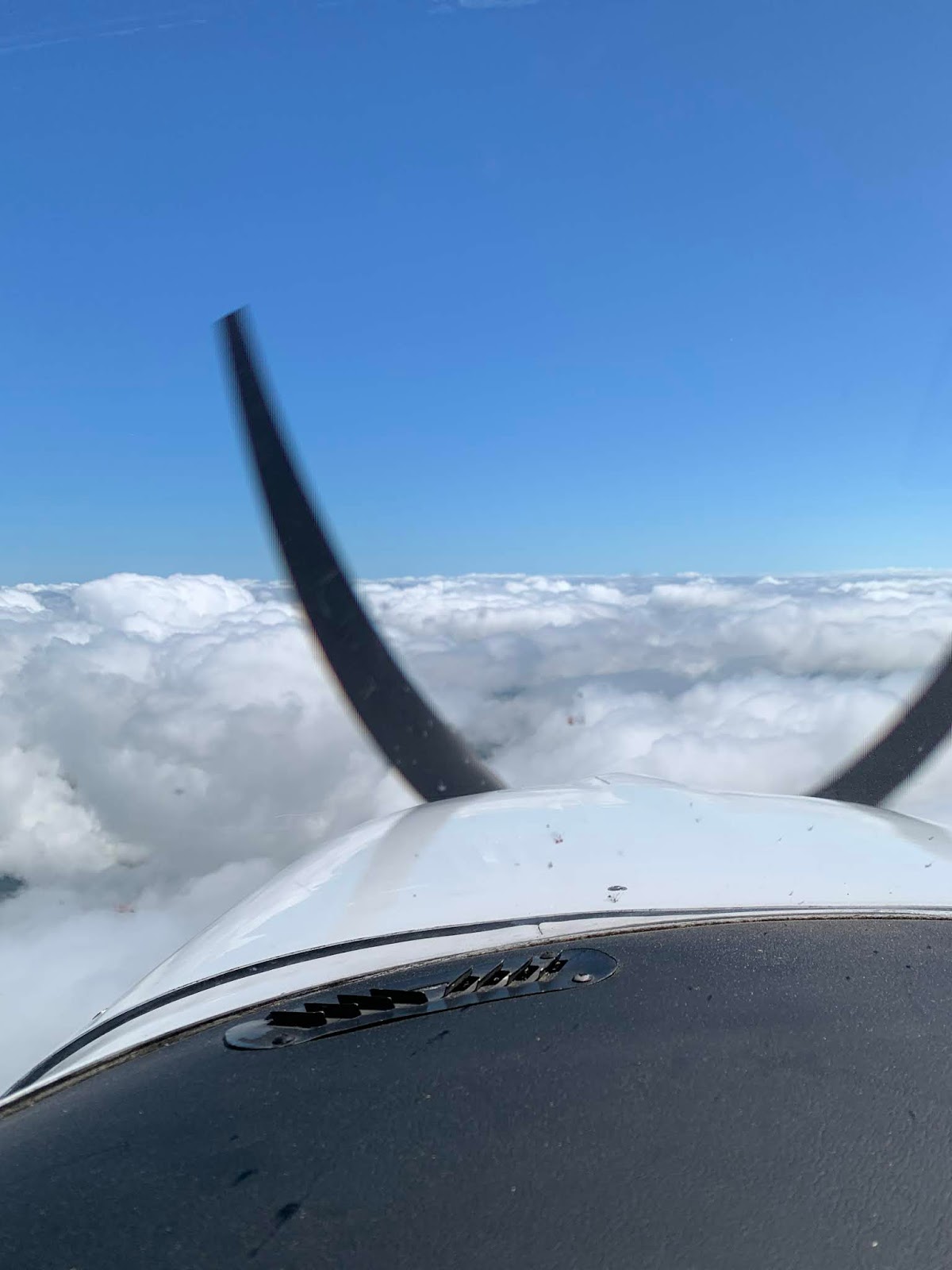 Very pretty up above the clouds
From there, it was gravy. Clearing skies, higher ceilings, mostly perfect…..We did cross the Mighty (muddy) Mississippi River again going north-east (ish) after Joplin, somewhat north of St Louis.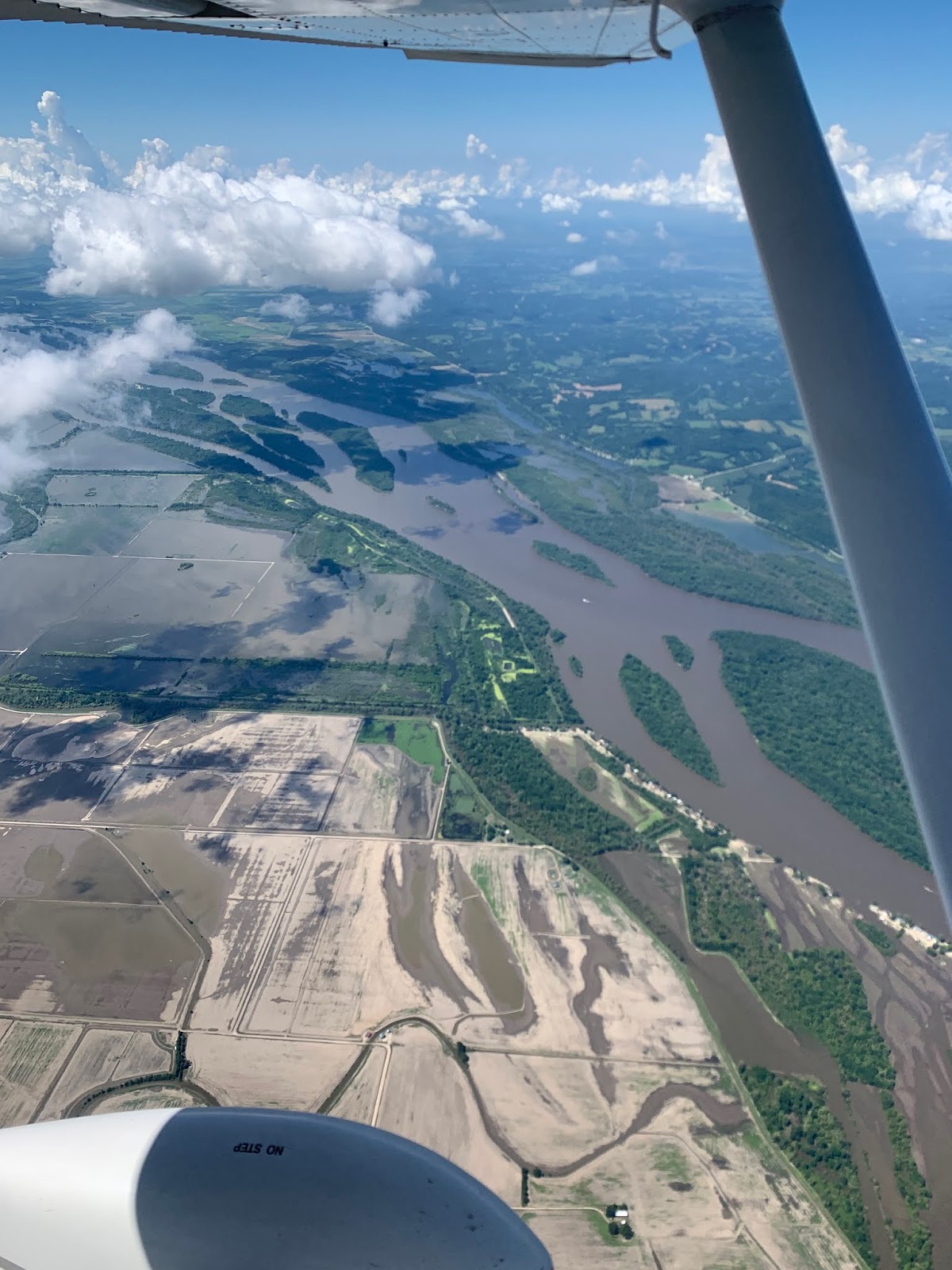 Mightier and Muddier than the trip down. Lots more out of the banks too.
We dodged a couple of small thunderstorm cells around Decatur Illinois, and, while we COULD have made it home, decided to stop at Champaign, Il for some 100 LL….(expensive fuel, but it was a good idea, as there was a squall line between us and home). We flew north to nearly Joliet,Il and then turned east to get home.
All told, 8 hours of flying to get back.
Twas an interesting flight back. Challenging flying…not dangerous, but at or below my minimums for the first part.
I doubt I ever trust a weather forecaster ever again though.
Having said that, it was a wash as far as travel time, and (slightly) cheaper for the two of ys vs commercial.
Plus it was friggin' cool flying myself to where I wanted.
Lessons: Never trust Meteorologists. Don't trust forecasts, or even conditions that are "clearing"…. wait for real, reported conditions to be above your minimums.
I can't wait for an excuse for another trip.