Well, not really…… But it IS finished.
The Non Ruger 10-22, that is.
(as always, click pic to embigginfy)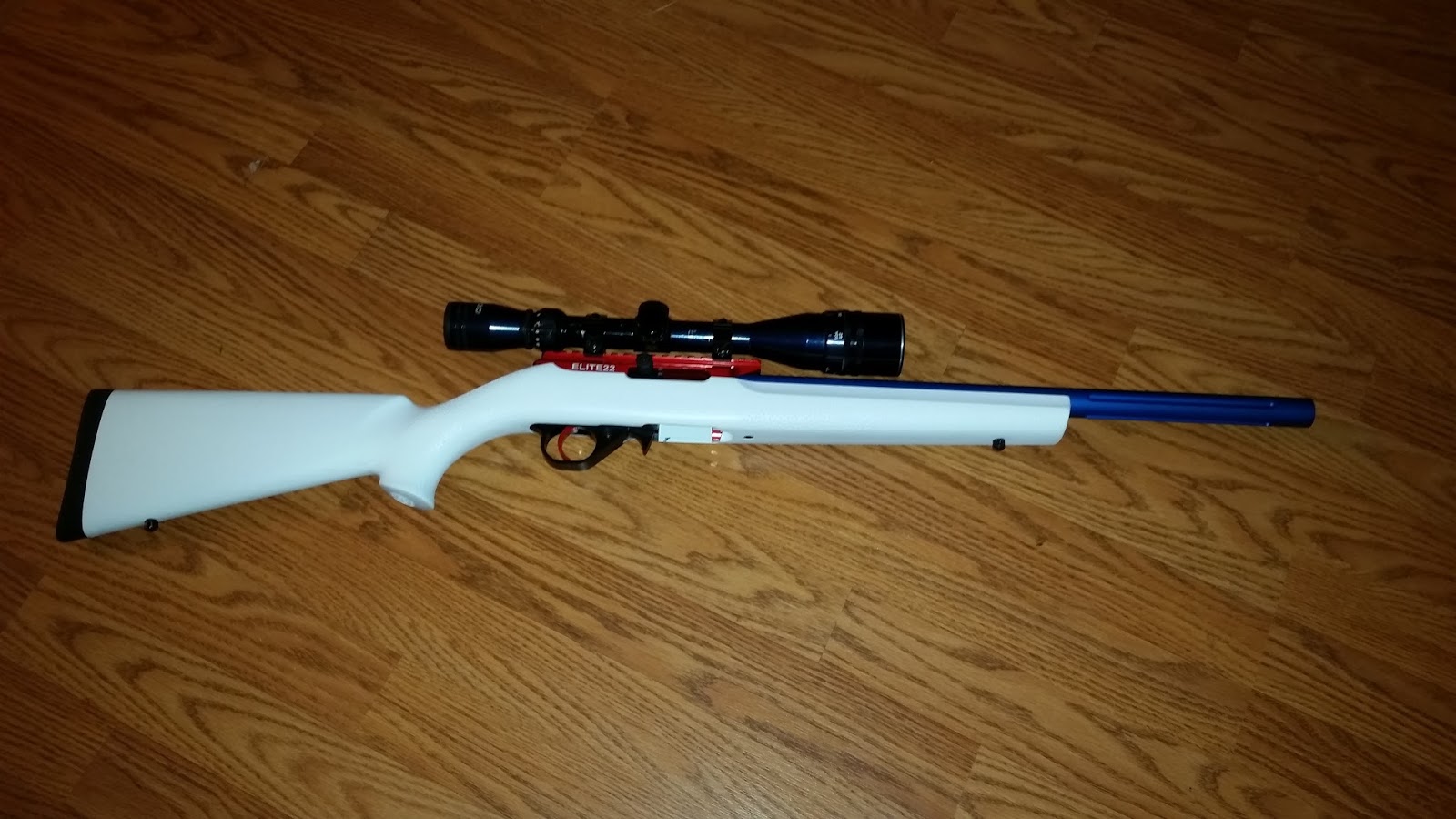 ain't it purty?
Tactical Innovations receiver (red) (w/Black Bolt).
Whistle Pig blue fluted 18.5″ lightweight Barrel. (You need one of these for your 10-22 as well….)
Kidd 2 stage trigger (12 oz/12/oz.) (You need one of these for your 10-22)……Very pricey. Very. But OMG! so very sweet.
Red/White/Blue because …'Merica! And I felt like it. Colors ain't gonna make it shoot any better, I know, but since I was building it…….and it didn't cost more or anything…
The assembly will live, for now at least, in a surplus to needs Hogue stock that I had laying around (until I find a decent adjustable stock). I trimmed the stock to free float the barrel. You can pass a bill all the way to the Vee block.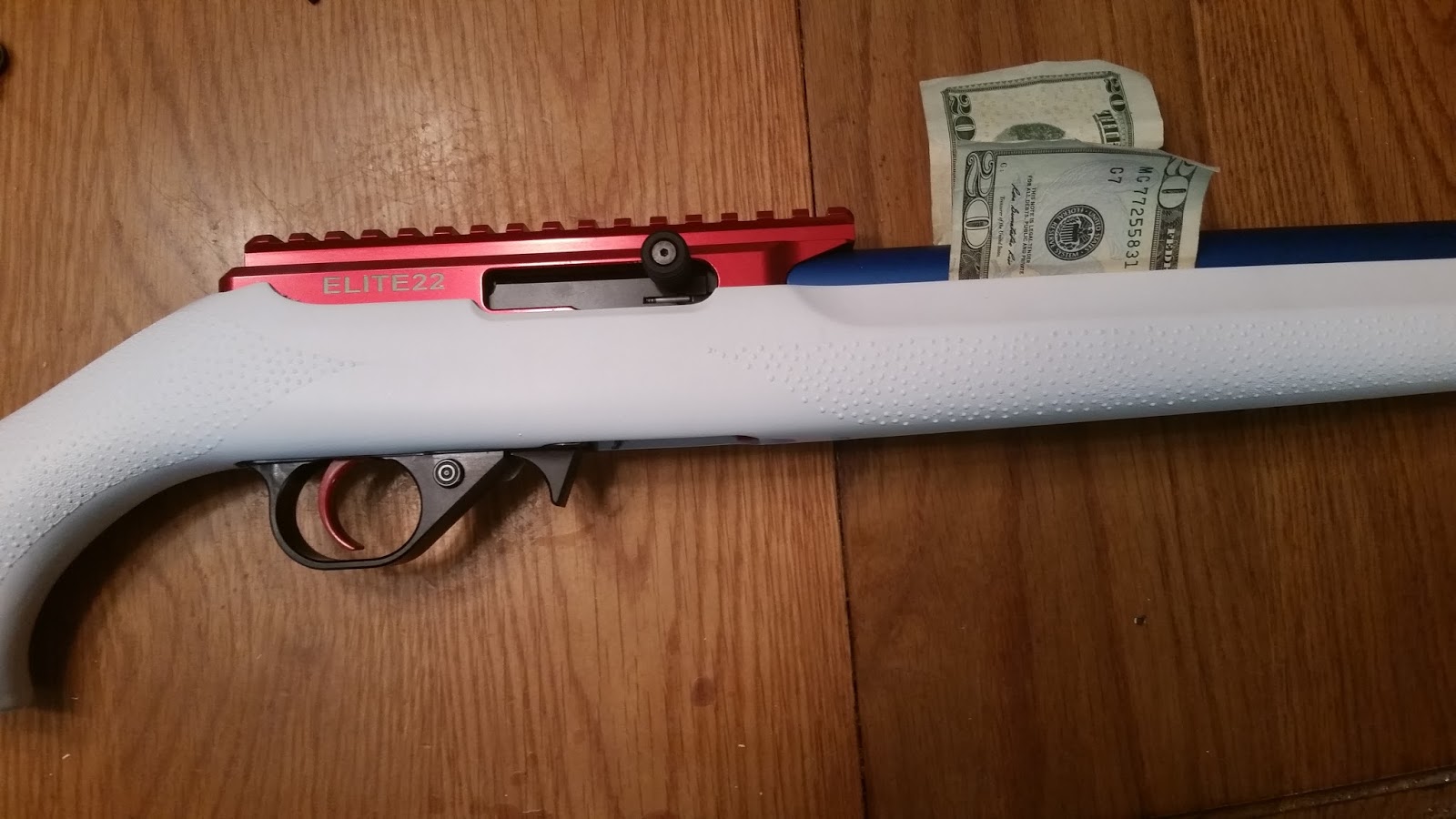 And it will wear, for now at least, a 4-12 x 50 Tasco that I also had laying around. There will be an upgrade in the future, but I'm gonna have to save my pennies for a while to find the right glass for this rifle. (and there isn't anything wrong with the Tasco….it is a decent scope that has served me well in the past…..it is likely older than some of my readers)
This assembly was not entirely drop in. There were issues with tolerance stacking, but I have to say that Tactical Innovations went out of their way to help. So did Whistle Pig. (Kidd was just sure that their trigger wasn't at fault and blamed everyone else…..) I had light strikes on the rims resulting in unreliable ignition, which turned out to be a bit of tolerance stacking. But once that was solved (with help from Tactical Innovations who went out of their way to make things work for me) everything else went smoothly.
The receiver is a well machined piece of metal.
The barrel is a work of art.Very light too. I chose not to get one with a threaded end for a silencer, because that combination of color and flutes and threaded end wasn't stock….but Whistle Pig did say they would make one for me for a reasonable price….
The trigger is great. Not cheap, Expensive, in fact… but worth the cost…
Total weight is 5.6 lbs…but 2 lbs of that is the Hogue stock.
This weekend is busy, but I should get it to the range soon .
Range report to follow…
Other parts I used:
Kidd Vee block (and screws), Nicely machined piece. Much higher quality than others I have seen.
Kidd polished trigger pins. (these fit perfectly. If you warm them up in your hand, they won't go in.)
Kidd bolt handle/return spring. (IMO the best on the market).
American National Firearms bolt buffer. These never seem to wear out. I have one in a rifle that has over 23,000 rounds through it and there is zero appreciable wear on either the pin OR the bolt.
Now if I could only find decent aftermarket mags, then I can have an entirely Non Ruger 10-22.
I think I will call it Captain America
(And I paid for everything, so the FTC can go eat a large block of cheese)