When we were reviewing Bugout Bags this month (which we do yearly, at a minimum) we realized that we had forgotten the old adage: "Two is one and one is none". Between us, there was only one cookstove.
While this might not be a terrible omission, having only one cookstove means that there might not be any hot water for the Mountain House meals which are packed in the BOB's (or coffee, or any other cooking), should the only stove we pack be damaged or have an issue….or if we get separated.
While I carry a Coleman Exponent, it is heavier than I wanted for Midwest Chick. Her bag (and, to be honest, mine is too) is at the upper limits of her ability to carry. So we spent a fair amount of time looking for a lightweight stove for her bag.
There are as many stoves for backpacking out there as there are accessories for a 1911 (ain't capitalism great?!?). There are one piece stoves, multi-piece stoves, stoves which burn kerosene, white gas (Coleman fuel) multi-fuel (Coleman or unleaded gas), propane/butane, and some that will burn any liquid fuel which you can light with a match.
One of the things we looked for was simplicity of use, another was durability. While there are light, foldable stoves out there that use liquid fuels,such as the Dragonfly , they all had some issues with durability…they needed a parts kit and extra o-rings in order to assure reliability in the field. Plus they were somewhat complicated to set up. There are specialized (and highly efficient) stoves just for boiling water like the Jetboil, but that is all they do. You can't really do anything but boil water, no cooking. There are old school stoves, such as the Svea, but they are somewhat complicated and lack the BTUs, and take a while to warm up and cool down. Complicated and unreliable do not meet our needs for a BOB stove. Neither does slow to warm up and low output, even though it is very high on the durability scale (but heavy).
We considered another Coleman Exponent, but while I am comfortable with the operation of this stove, and can operate it and light it with my eyes closed, to a beginner, this is a somewhat complicated and intimidating stove. Plus it is heavy, at 2.6 pounds fully fueled (but a tank of fuel will last over an hour and a half). And it doesn't have a small footprint. It has the advantage of reasonable durability and reliability, and high output, and will burn either Coleman fuel or unleaded gas, but low weight and simplicity are not part of its features.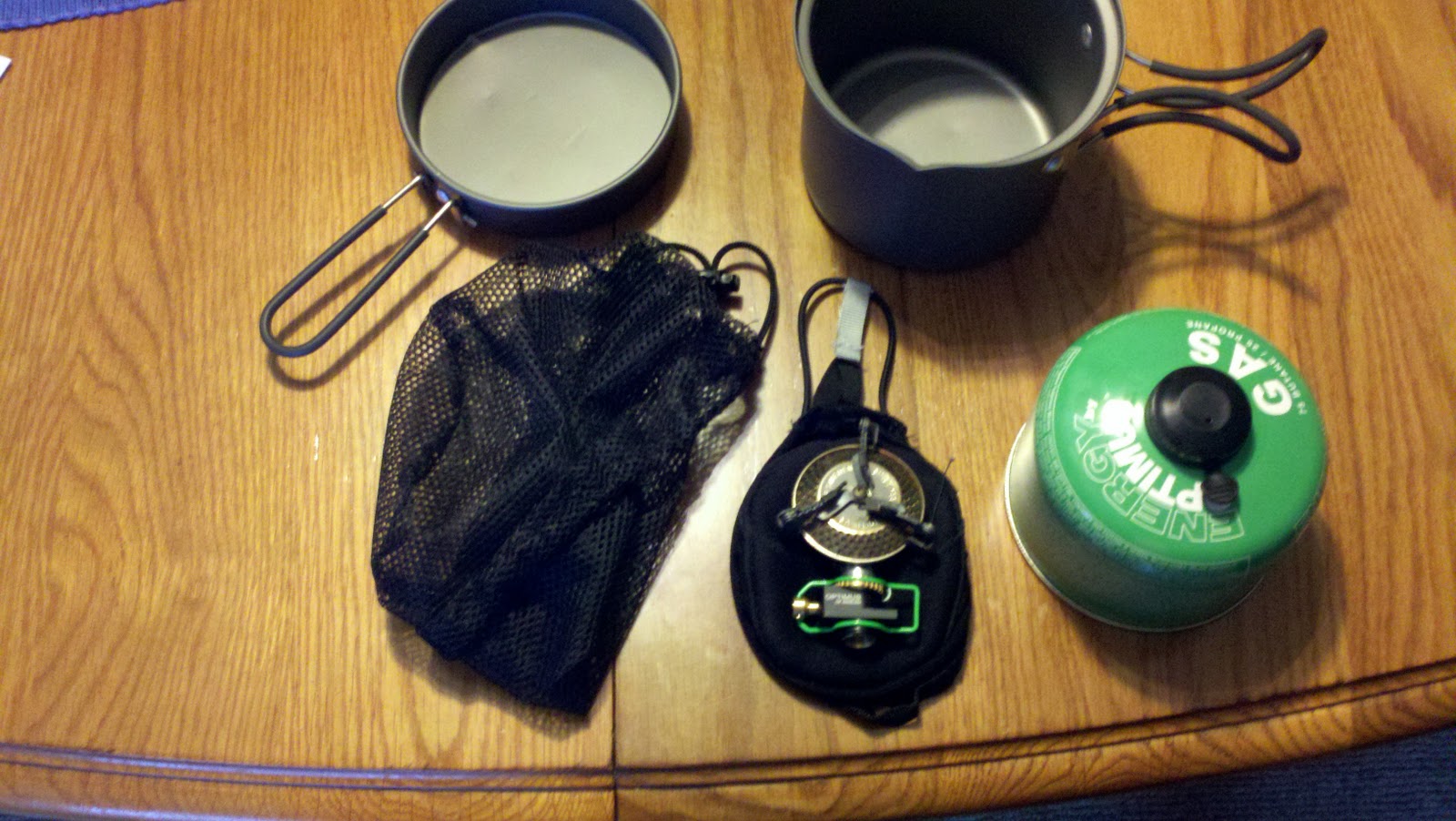 We decided on an Optimus Crux Lite Weekend cookset. It weighs 9 OZ plus the 10 oz (8 OZ fuel) fuel bottle. This is a 10,000 BTU burner which sets up in seconds, is easy to assemble, heats a liter of water in 3 minutes (room temp in still air), and has a small footprint when packed. Burn time for the canister is 90+ minutes, which is 30 liters of water. And it comes with a cookset that is also its cover.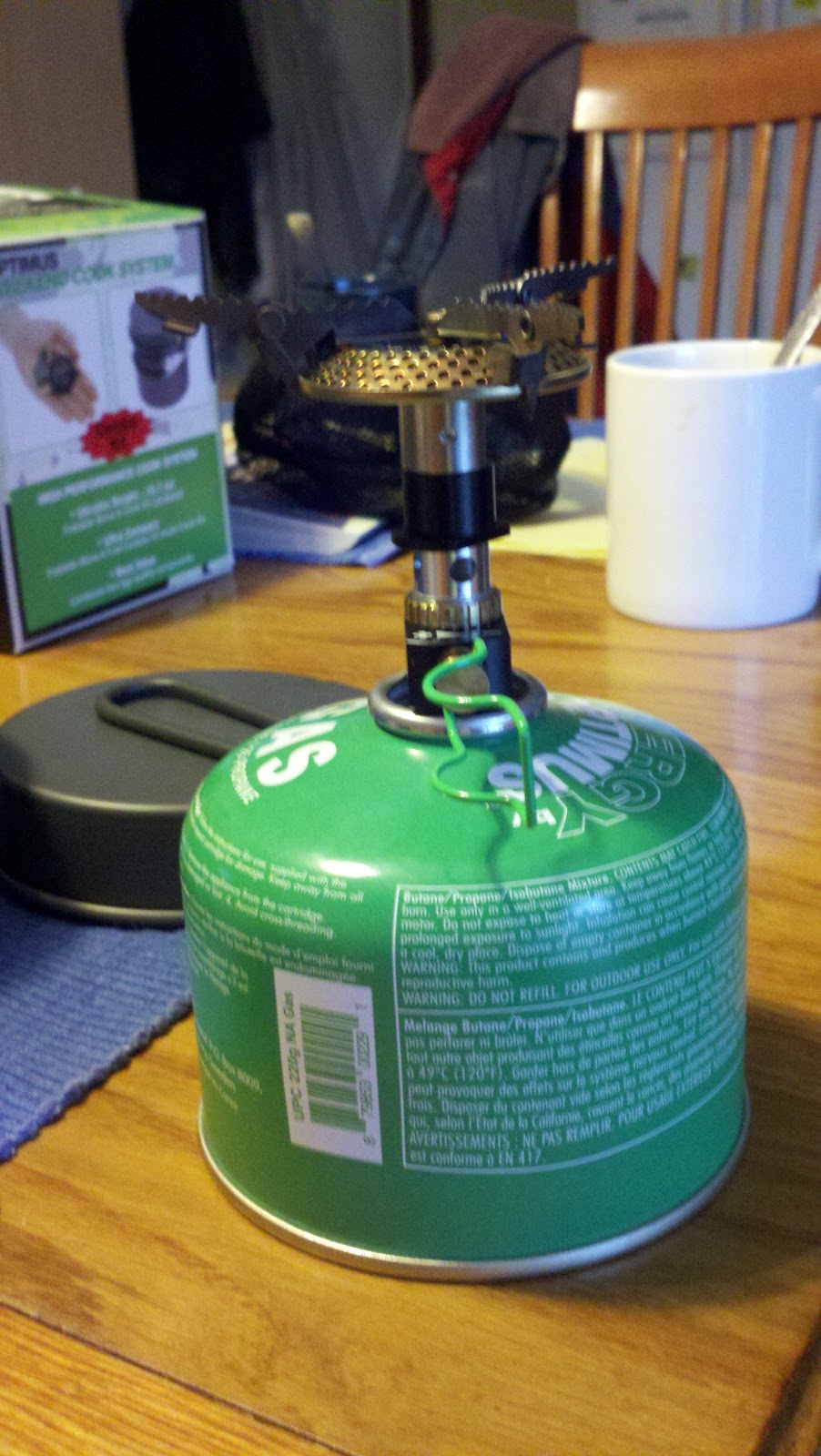 We tried it at home, and it really does heat a liter of water in less than 3 minutes. And it assembles and disassembles easily and said assembly is intuitive. It might need a windscreen, but that is the only addition I can see it needing.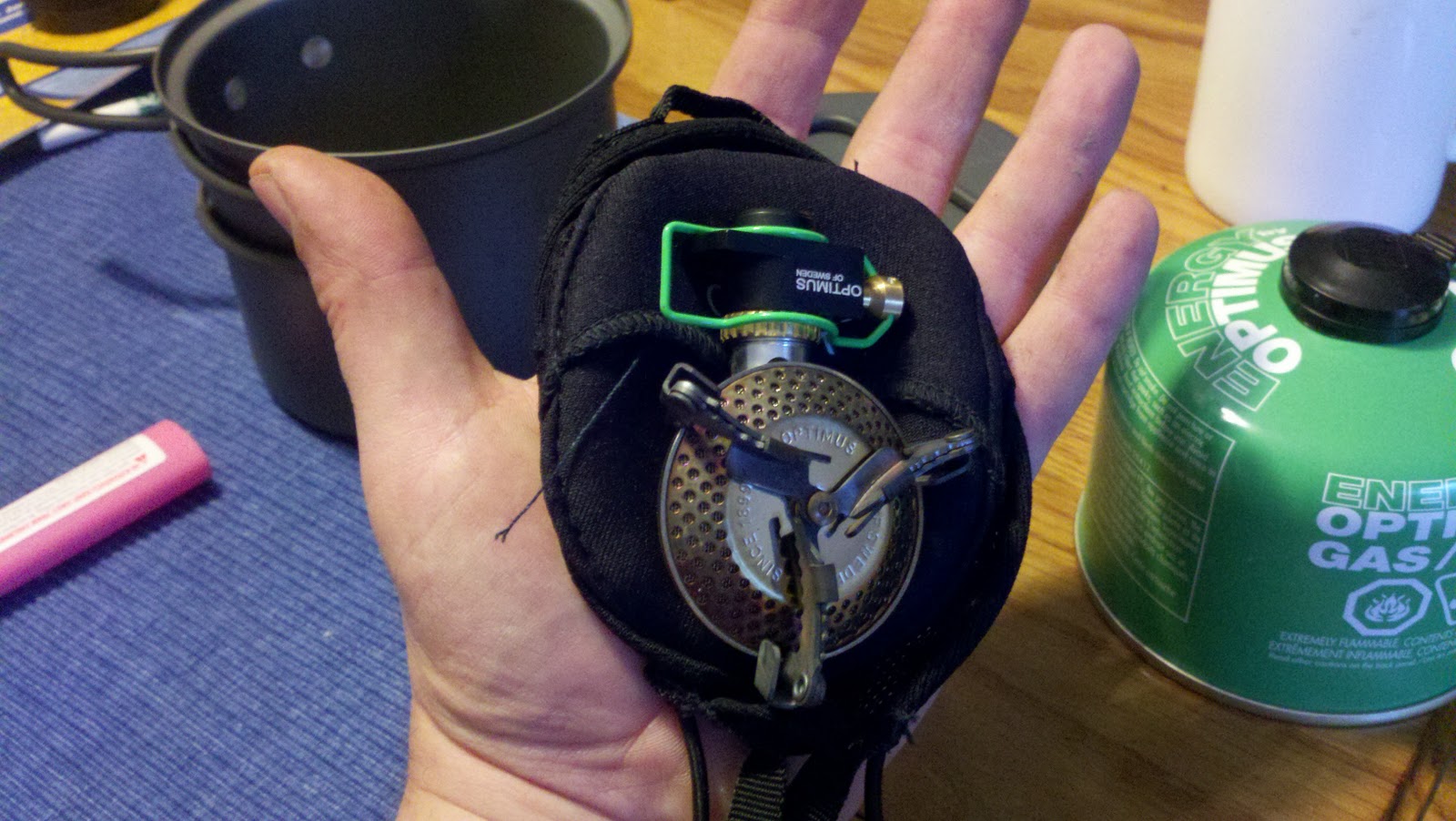 While your BOB contents are your personal choice, I'd recommend that you check out this stove.